Lifestyles
Steve LaNore's children's book takes press honors
Mar 22, 2013
"I love watching kids laugh and learn at the same time." That's how Steve LaNore, Chief Meteorologist of KXII-TV in Sherman, explains his motive for writing
Weather Wits & Science Snickers: Corny Jokes and Cool Facts
, a book for ages eight and up. The formula works. LaNore's book has just been named Best Children's Nonfiction Book of 2012 by Press Women of Texas. It will represent Texas in the same category in the National Press Women Competition held in August.
A compilation of riddles, jokes, cartoons and dramatic photographs, the book goes straight to the heart of the weather, entertaining and educating, pursuing answers to questions like "How does radar find rain," and "What is a tornado?" Striking photographs of tornados and other weather phenomena include a handful taken in the Texoma area. The book's charming and original cartoons will appeal to anyone who has a funny bone. They are thanks to accomplished illustrator Elizabeth Cox, a graduate of Austin College.
Weather Wits & Science Snickers: Corny Jokes and Cool Facts, is available at local independent bookstores, including The Book Rack in Sherman, Blue River Books in Durant and The Bookseller in Ardmore, as well as from amazon.com/.
LaNore, who lives in Pottsboro with his wife Gera, is highly awarded in his industry and brings almost three decades of television experience to his position at KXII-TV. An AMS certified Broadcast Meteorologist, he has completed the National Weather Service advanced Skywarn training program.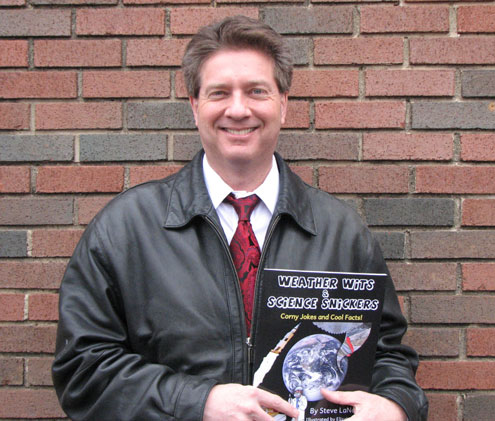 Not a textbook itself, Weather Wits & Science Snickers is a natural resource for the classroom, as well as for any curious kid who wants to learn more about how nature works and have a good time doing it. LaNore is releasing a workbook to make it even more useful for both home schooling and public education.