Sports
Bonham's Nikki Bateman wins State Powerlifting championship, Bonham girls team places 6th
Mar 18, 2013
At the Girls State Powerlifting Meet in Corpus Christi this past weekend, Bonham's Nikki Bateman was not only the Class 3A State Champion in the 220-pound division, but Bateman also received the Best Overall State Champion Award for being the strongest 220-pound girl in Texas in Class 1A through Class 5A.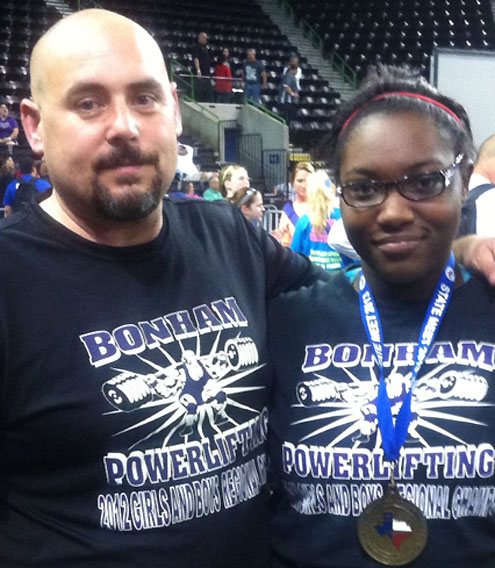 Bonham head coach Randall Dills and Nikki Bateman
The Bonham Girls Powerlifting Team had an impressive performance as well, finishing in a tie for 6th place out of 76 Class 3A schools.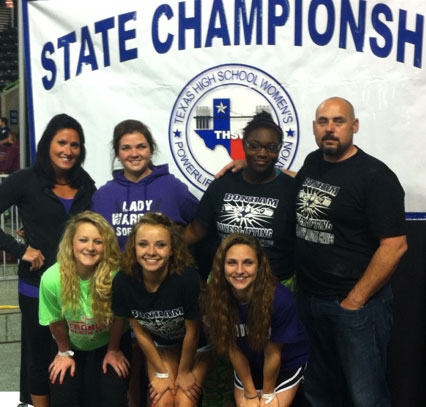 2013 Bonham girls state meet team
Bonham's Jessica Smith brought home a 4th place medal in the 97-pound division.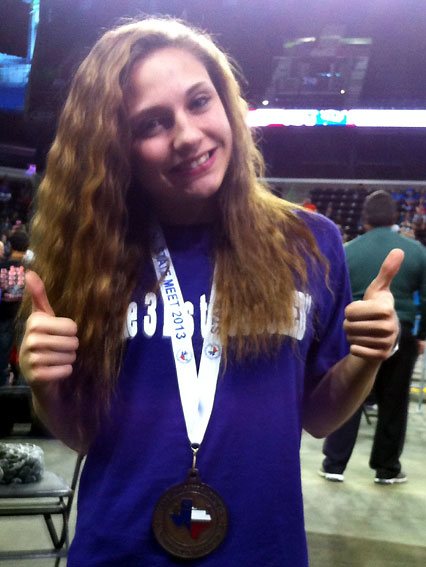 Jessica Smith
Bonham's Makayla Boatwright tied for 6th place in the 1-5-pound division and was awarded a $500 scholarship from Texas High School Women's Powerlifting Association. Boatwright was one of only 12 girls in Texas to receive a THSWPA scholarship.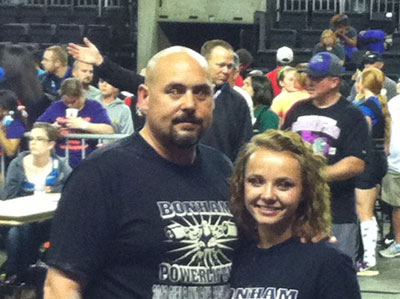 Bonham head coach Randall Dills and Makayla Boatwright
Top 6 Team Places:1st Crystal City-19 points; 2nd Silsbee-14; 3rd Wills Point-12; Tied for 4th College Station & Rio Hondo-10; Tied for 6th Bonham, Pleasanton & Anna with 9 points each.
Bonham's Individual Results:
97 pound class- Jessica Smith- 4th Place Medal
Kelsea Brinlee- placed 10th
105 pound class- Makayla Boatwright- tied for 6th; Makayla was also awarded The THSWPA $500 Scholarship (1 of 12 girls in the state to receive this)
198 pound class- Audrey Richardson- placed 10th
*220 pound class- Nikki Bateman 3A STATE CHAMPION ; Bateman also received THE BEST OVERALL STATE CHAMPION AWARD (The Strongest 220 pound girl in the State of Texas in ALL Divisions 1A thru 5A)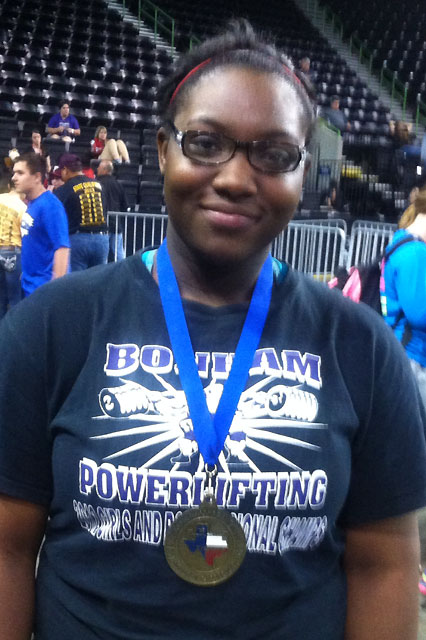 Nikki Bateman