Lifestyles
Adult foster care provides options
Apr 13, 2013
In Texas the Department of Aging and Disability Services provides Adult Foster Care (AFC) for adult persons with a physical, mental, or emotional limitations who are unable to live independently. These individuals live in homes that provide a supervised, 24 hour living arrangement. The provider is paid a salary and must meet certain requirements and submit a monthly log on services provided to the resident. AFC providers and residents live in the same house hold and share common living areas. The home must provide a private bedroom and bathroom for an individual and no more than three adults may live in the same foster home. The individual receiving the services pays the provider for room and board. To be eligible for an AFC slot, a person must be eligible though the Home and Community Based Services (HCS).
Almost four years ago Charlie (not his real name) decided to move into AFC. Charlie has an intellectual challenge and is not able to live independently. At thirty-three years old, he has been in AFC for three to four years. As an adult, he lived with his parents until age 24 and then he moved into a group home for six years. Each step in his living arrangements makes him more independent.
Charlie is a likable, easy going guy who has held a mainstream job most of his adult life. He worked as a janitor for a major employer for eight years, but the company closed. He has also worked at a grocery store in customer service and Goodwill. He likes to earn his own money and is now searching for a job. "I have been looking on the Internet to see what jobs are available. I have not found anything that I feel suits me. I get frustrated in being unemployed, but my parents are encouraging saying that I will find another job when the economy picks up. I receive services from Texoma Community Center and attend a day hab program since I was laid off," says Charlie.
Charlie chose the AFC arrangement because he was tired of living in the group home, and he knew the AFC provider and liked her. He feels that he has more freedom to do things now than he did when he lived in the group home. "I like to be alone at times. There were always people around in the group home. When you live with others, you have to do what is best for the group. I learned all kinds of things living with a group," Charlie added.
In AFC he has more time to do the things he enjoys. He is a collector of various things. He is a sports fan and loves watching sports and especially his favorite team, the University of Kanas Jayhawks. Another favorite pastime is playing video games. Charlie likes to write down his goals and makes plans on how to accomplish them. His ultimate goal is to get a job working on video games. He would like to get married someday in the future. He has a full life and is happy.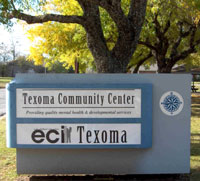 Other services available through Texoma Community Center are Consumer Benefits, Continuity of Services, Intake/Eligibility/Diagnostic Services, Service Authorization, Service Coordination, DADS Waiver Programs (HCS and TXHML), DADS ICFIDD Residential Program, In-Home and Family Support, Transition Planning, Adult Day Habilitation, Behavioral Support Services, Community Support Services, Respite Services, and Supported Home Living Services.

For more information call: 903-957-4795.