Front Page
Crow's-Feet Chronicles: Wash your mouth out with chocolate
Mar 17, 2013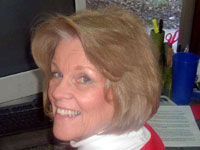 I decided to not give up chocolate for Lent but rather to attempt to be kind for 40 days. I didn't make it, but chocolate kept me out of prison.

I love chocolate to the point that I've done some really stupid things in my life. I confess to licking chocolate off my baby's toes (long story) back in the 70s. And I salvaged a chocolate candy bar, puddle and all, from the hot seat of a car in August.

Tootsie Rolls were always my passion. They got me through so much stress. On really bad days, I would buy the giant ones and eat a chunk every 15 minutes just to get me through. When my children started trick-or-treating, I told them that mothers were allowed to take a Tootsie Roll Tax. That was our "payment" for making their costumes and escorting them through the neighborhood. They didn't mind too much because they always got lots of Tootsie Rolls and I never took all of them (just most).

For some reason, my kids never checked this out with their friends until my oldest son turned 12. Instead of going out with the family, Dusty went with a group of kids that year. They were swapping candy at his friend's house and he mentioned that he couldn't swap the Tootsie Rolls because of the tax. Boy, was he ticked when he discovered that other mothers did not tax their kids' Halloween haul. He blabbed it to his younger brother and sister so I told them that it was only once you turned 12 that you didn't have to pay the tax anymore. That bought me a few more years.

Chocolate changed the course of Easter egg hunts. If I never see another candy Easter egg, it'll be too soon. You know the kind. They had the hard sugar shell with a white sugary center that was gritty, sweet to the point of ick, and probably invented by the Russians. Except for eating half a pillowcase of the darned things when I was pregnant, I could never stand them. They were unwrapped and would find their way into a baby's fingers and mouth. After dropping the candy egg in the dirt and hoisting it back into his mouth, the kid would continue to suck through the grit, grass, and dog hair to get to the sticky egg. Bleh.

I know one person who doesn't like chocolate and another person who said she would be fine if she never had chocolate again in her life.

My guess is that they are aliens.