Front Page
2013 Texoma Earth Day Festival April 20
Apr 20, 2013
2013 Texoma Earth Day Festival
"Growing Green"
Saturday, April 20 7:30 am to 5:00 pm
Sherman TX Municipal Ballroom and Grounds
Keynote Speaker: Terry Jenson of DFW Ecovillage
Key Note Address at 11:00 am
Website: www.earthdaytexoma.org
The Texoma Earth Day Festival is a family oriented event where community members come together to learn ways to reduce our impact on the environment. This is a fun filled event with something for everyone - art shows, electric and hybrid vehicles, vendors, workshops, music, food, displays, educational materials, resources, demonstrations, and more!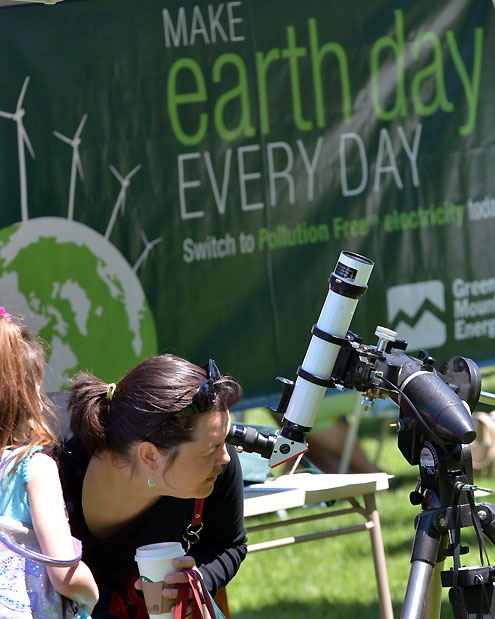 The festival will open at 7:30 with the American Heart Association Heart Chase, an event with stations that promote physical fitness and education about heart health. Keynote speaker for the 2013 festival is Terry Jenson of DFW Ecovillage. The Keynote Address is at 11:00 and will feature the Ecovillage's proposed planned sustainable community. In additional to planning a community, DFW Ecovillage provides education on green building techniques, alternative energy, conservation and permaculture.
The Earth Day Festival offers a variety of recycling opportunities including paper and cardboard, electronic waste (if a current runs through it it can be recycled), ink and toner cartridges, medicine bottles, Styrofoam, ball caps, eye glasses and sunglasses, and clothing, hand bags, belts and shoes. Children's activities include a children's art show, a trash audit and several booths that teach children how to make things from items that would normally wind up in the landfill. Workshops and demonstrations include topics such as a panel on the Tar Sands protests, rain water harvesting, composting, bee keeping, container gardening, electric vehicle conversion, reducing energy consumption, and animal safety and respect. Cowboy Poet Lany Joe Burnett will tell stories between 1:30 and 2:20 pm. Country & Western singer Allen Hurt and members of his band The Mountain Showman will perform at 1:30 to 2:00 pm.
Coordinated events include a Children's Art Show and Used Book Sale at the Sherman Public Library. A mail in art show themed "Earth in Flux" sponsored by Grayson College Art Department will hang the day of the show. Area auto dealerships will have electric and hybrid vehicles on display.
Like "Texoma Earth Day Festival" on facebook. More information, complete event schedule, and registration forms please visit the festival website www.earthdaytexoma.org.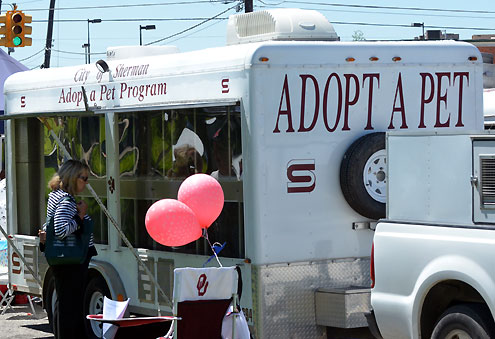 Sherman's mobile Adopt-A-Pet trailor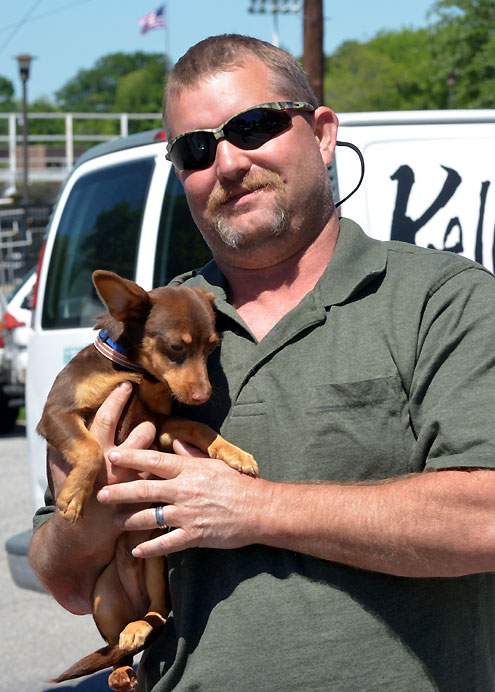 Everyone went home from Earth Day with ideas to lower utility bills and save resources, while Bo, a puppy from the City of Sherman's mobile Adopt-A-Pet trailor, went home with his new owner, Billy Hall.