Farm and Ranch
Little Elm's inaugural Farmers' Market seeking vendors
May 10, 2013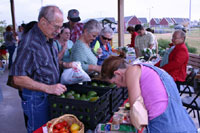 Little Elm -- Few signals are as unmistakable as those that announce the emergence of spring; buds on trees, new leaves on bushes, flowering bedding plants and the fresh scent of new growth. Add to that the opening of registration for Little Elm's new Farmers' Market, according to Wayne Dewey, the market's manager.

"We're looking for the best Texas growers and producers of vegetables, fruits, nuts, seeds, and grains, as well as food specialty products like jams, jellies, spices, condiments, cheeses, eggs, honey and meats," he said.

Applications are now being accepted for the 2013 season. Official opening is set for 8 a.m. on Saturday, May 11. The market will remain open until noon every Saturday through Oct. 19.

The project is owned-and-operated by the Town of Little Elm and is funded by both a grant from the USDA Agricultural Marketing Service (AMS) and by fees paid by participating vendors and sponsors.

This year, the Farmers' Market will be located at the Little Elm Towne Crossing, 2700 Eldorado Parkway, in the Hobby Lobby parking lot. The 2014 season will see the Farmers' Market move to its permanent location at the newly-revamped Beard Park.

"The Little Elm Farmers' Market will be a casual, festive, family-friendly, open-air marketplace. Each week, we hope to offer something different; live music and entertainment, cooking demonstrations, special events for local artists and crafters and other community-minded activities, along with, of course, the freshest produce and prepared foods," added Dewey.

In addition to produce vendors, officials are also seeking to connect with entertainers, prepared food vendors and other merchants with specialty items that correspond to the farmers' market concept.

Vendors wishing to learn more can find information by visiting www.littleelm.org and clicking on the Farmers' Market icon on the bottom of the home page or by contacting Wayne Dewey at 972-731-3299. Vendor packets may be obtained via email by sending a note to farmersmarket@littleelm.org.

Stay connected by liking the Farmers' Market Facebook page by searching for "Little Elm Farmers' Market."

"We're extremely excited about this new offering to the residents of Little Elm, and we're hopeful that it becomes a Saturday morning routine for those looking for fresh foods and lively entertainment," concluded Dewey.