Front Page
Fannin Literacy Council and Bertha Voyer Memorial Library form partnership
Mar 9, 2013
The Fannin Literacy Council and the Bertha Voyer Memorial Library are excited to announce a new partnership to offer GED classes to Fannin County residents. Each entity previously offered GED classes at separate locations. The Fannin Literacy Councilís HOPE (Helping Our People Excel) Program in Honey Grove has been housed for the last four years at the Honey Grove Housing Authority offices. The Honey Grove HOPE program has now been moved to the Bertha Voyer Memorial Library and combined with their previously existing GED program.
The new location offers a total of six computer workstations that offer AZTEC learning software to help individuals improve their math and literacy skills. AZTEC provides lessons in a very easy-to-use and interesting format. Teachers are on-site during class time to provide one-on-one instruction to assist individuals in:
∑ studying for the GED test.
∑ study for the college entrance exam.
∑ improve their reading levels.
HOPE classes are now offered in both Bonham and Honey Gove at no cost to adults age 17 and up with both day and evening hours available. Classes are held at the following locations:
∑ Bonham: 806 W. 16th Street (TEAM Center)
∑ Honey Grove: 540 North 6th Street
(Bertha Voyer Memorial Library)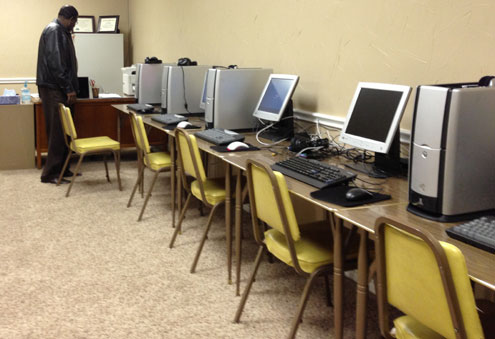 Those interested in attending classes can contact Lou Ann Taylor, Social Services Coordinator for the Bonham Housing Authority, at 903-583-1264, extension 1, to enroll in classes or for more information.