Front Page
Watercolor & Wood opens at Creative Arts Center March 1
Mar 1, 2013
Watercolor & Wood opens at the Creative Arts Center Friday, March 1 with a reception from 6:00 p.m. to 8:00 p.m. This exhibit features the paintings and carvings of California artists Ron and Helen Eckard. With colorful watercolors featuring a wide variety of themes, the Eckards have a fabulous body of work. Ron's wood carvings are exquisite - from cutting boards to rocking horses, he has produced pieces sold all over the country.
Local wood carvers Terry and Bonnie Blose, Kyle Dalton and Layne Schiebel are also included in the exhibit. Terry Blose's pieces include furniture and beautiful boxes; Bonnie carves utensils and bowls; Kyle Dalton makes beautiful vases, bowls and crosses; Layne Schiebel carves sculptures and makes furniture.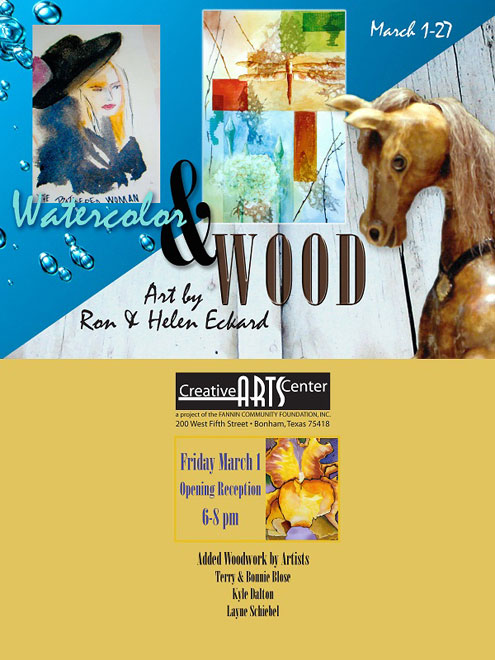 Bonham is fortunate to offer such unique and wonderful show and most of the work will be offered for sale. Whether you are a collector or just love to look, you should see Watercolor & Wood, on display through March 27.