Local News
Forest Service discusses options for Lake Fannin
Mar 4, 2013
Ivanhoe, Texas -- An audience that included Fannin County Judge Spanky Carter, Bonham Mayor Roy Floyd, Fannin County Commissioners Gary Whitlock and Jerry Magness, as well as Bonham City Council member Glenn Taylor listened to a frank and open discussion at Lake Fannin Lodge Thursday night regarding the future of the 1,700-acre Lake Fannin complex.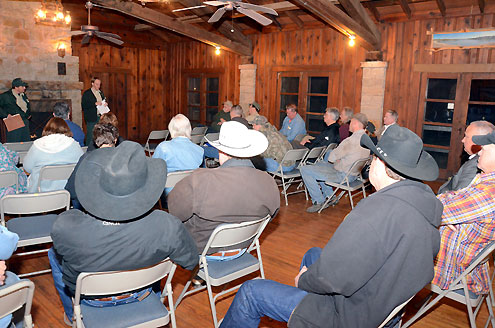 Much of the discussion featured USDA Forest Service District Ranger Erik Taylor and Forest Service biologist Marc Pons.
After a brief introduction, Mr. Taylor cut to the chase.
"We want to tell you where we are at right now," said Taylor. "The Special Use Permit expired two years ago. Operations are being conducted with no permit."
Lake Fannin Volunteers' permit expired in 2011.
Taylor would later explain that, to be in compliance, the Forest Service should be operating the site if there is no Special Use Permit. He went into detail about the three most likely options.
"We can shut the site down," stated Taylor. "To be honest with you, we are exploring that possibility."
The Forest Service closed the gates once before, from 1980 until 1998 when a group of local volunteers entered into an agreement with the Forest Service and began restoring the former Rural Resettlement Act site that was completed 76 years ago under the watchful eye of Congressman Sam Rayburn.
Gregory Hall attended the meeting Thursday night and Mr. Hall was also at Lake Fannin the day the facility opened.
A second option would be for a land swap or donation.
"This could involve donating the land to the county...this could involve donating the land to the city," said Taylor.
To some extent, Fannin County is already shouldering some responsibilities at the remote recreational site; Fannin County Sheriff's Office patrols the area and Fannin County Precinct 1 Commissioner Gary Whitlock maintains the roads.
Gabe Parker, president of Lake Fannin Volunteers, says that if the county assumed ownership of the 1,700 acres, local taxpayers should take note that his group of committed volunteers would not need any financial support from the county.
"We can pay our own way," said Parker.
Parker went on to point out that Lake Fannin Volunteers are focused on restoring the historical structures near the lake in an area that covers less than 60 acres. Perhaps Master Naturalists, Master Gardeners and myriad other organizations could work with the county to develop projects on the remaining 1,640 acres.
Keep in mind that the Lake Fannin Complex also has one mile of frontage on Red River which could be an ideal end to a paddle trail for kayaks and canoes.
However, transferring the property to the city or county would be a lengthy, laborious task.
"It's gonna take years," said Taylor.
"What happens to the land during that time?" asked Fannin County Commissioner Gary Whitlock.
"It would still be federal property," replied Taylor.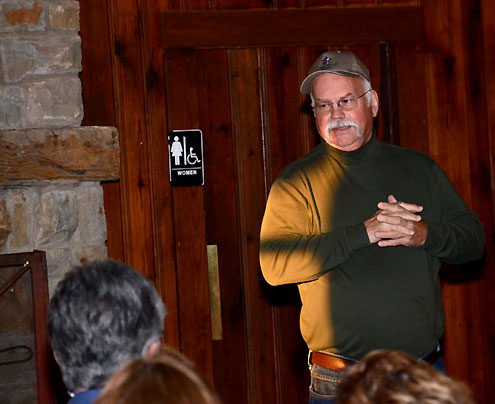 Gabe Parker
The third option would be to develope Lake Fannin into a recreational rental site.
In the interim, Taylor and Parker will enter into discussions about the immediate future of the Lake Fannin Complex and what
role
Lake
Fannin Volunteers will play.
Taylor advised Lake Fannin Volunteers that no commercial activity, meaning no exchange of money for rentals or leases, would be allowed.
"If it's a non-commercial event, it will probably be OK," said Taylor.
"That was the only way we had to make money to operate out here," remarked Mike Lindsey.
"I want your input, I ask for your patience," Taylor told the group. "The last thing we want to do is close it. We're gonna be hand-in-hand here. I plan on meeting with you on a more regular basis. "We have some things to work through what will probably be a symbiotic relationship for us both."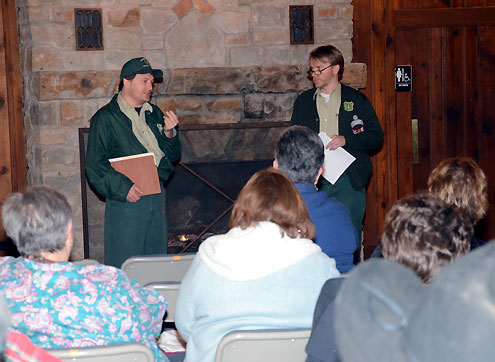 (L-R) Forest service biologist Marc Pons and District Ranger Erik Taylor discuss the future of Lake Fannin.