Front Page
Kathryn's Texas Kitchen
Mar 3, 2013
The word strudel is German and means whirlpool although the dish is originally from Austria.
The Viennese City Library has the oldest known strudel recipe from 1696 and, of course,it's handwritten.
Strudel is a rolled pastry stuffed with either a sweet or savory filling.
Apple strudel seems to be the best known of the recipes and one of the most popular.
Here is a savory strudel recipe I saw on the Food Network last year when Chef Emeril Lagasse was preparing an Irish meal to celebrate St. Patrick's Day. Using phyllo dough saves a lot of time from making your own dough from scratch. The handmade dough is very thin and stretched, which takes a lot of the cook's time. It was said the Austrian Emperor's perfectionist cook ruled that you should be able to read a love letter through it.
Corned Beef and Cabbage Strudel
Recipe adapted fromwww.foodnetwork.com courtesy of Emeril Lagasse
Ingredients
¼ lb bacon
½ cup julienne onions
1 TB minced shallots
1 tsp minced garlic
2/3 cup shredded cabbage
1 TB Creole mustard
Salt and black pepper
½ lb thinly sliced corned beef
½ cup grated Swiss cheese + more for garnish
3 sheets phyllo dough
¼ cup olive oil
Emeril's Original Essence Seasoning
Green onions chopped for garnish
Red and yellow bell pepper chopped for garnish
Ingredients for Sauce
½ cup grain mustard
¼ cup white wine
1 tsp honey
Salt and black pepper
Other Items Needed
Measuring cups and spoons
Cutting board
Chef's knife
Sauté pan
Wooden spoon
Basting brush
Baking sheet
Pot holders
Small saucepan
Wooden spoon
Serving platter
Instructions
Preheat the oven to 375 degrees.
Heat the sauté pan and render the bacon until crispy. Pour off most of the fat. Add the onions, shallots, and garlic. Sauté for 1 to 2 minutes. Add the cabbage and continue sautéing until the cabbage has wilted, about 3 to 4 minutes. Mix in the Creole mustard and season with salt and pepper.
Take the 3 phyllo sheets and lay flat. Cover 2/3 of the sheets with the corned beef. Spread the cabbage mixture over the corned beef. Sprinkle the Swiss cheese over the cabbage. Season with Essence.
Starting with the side that has the most filling, roll the strudel up, tucking the sides in towards the end. Brush the entire strudel with the remaining olive oil. Season with salt and pepper. Bake for 15 to 20 minutes or until golden brown and heated through.
For the sauce: In the small saucepan, combine all the sauce ingredients. Bring to a simmer. Season with salt and pepper. Slice the strudel on the bias into 6 equal portions. Line the pieces in the center of the platter. Drizzle the sauce over the top. Garnish with Essence, cheese, green onions, red and yellow pepper.
Another Irish recipe is coming from Kathryn's Texas Kitchen.
Until next time…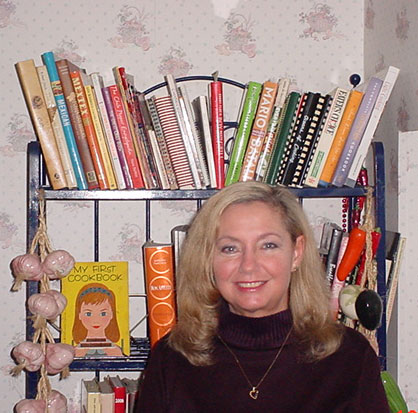 Bon appétit!