Front Page
Crow's-Feet Chronicles: Iím fallen but Iím no angel
Mar 21, 2013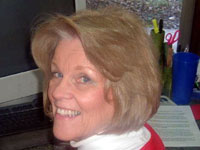 Looking back, I donít remember my dad falling. His size 12 shoes carried him well, and even his 79-year-old shuffle steps were careful and calculated. Mama, on the other hand, suffered a smorgasbord of injuries when she either somersaulted over the 90-pound dog during the night or plummeted down the steps of the Sam Rayburn Library. She was always disappearing over a railing, down a flight of stairs, or through an open window. Like mother, like daughter.

I stumbled regularly through the 70s and 80s when my crepe soles met carpeted flooring. Each time, I was like the lame skater who tumbles out of a triple axel. The falls were epic during those years and time hasnít changed much.

I walked into the garage last Wednesday as we were leaving for a weekend trip to Colorado, and thatís when the rug caught the Ugg. It was like seeing an intruder, realizing Iím out of bullets, and somehow knowing that he is going to blow my brains out. Falling was in slow motion that day as I catapulted to the concrete floor and grabbed the rake, the garden hose, two lawn chairs, the basketball rack with four balls, and a push broom (in that order) on my way to the ground. It was too late to pretend that I was spontaneously dropping for some random push-ups, so I danced with the air. The air dropped me like a rotten persimmon.

When I didnít realize I was falling until it was too late, I knew I wouldnít be plunging too much longer. Lanny Joeís reaction was the same as the day our dog Jackson had an accident in the kitchen floor: ďOh, my LORD!Ē

Florence Welch wrote:

ďSometimes I wish for falling,

Wish for the release,

Wish for falling through the air

To give me some relief.

Because fallingís not the problem;

When Iím falling, Iím in peace.

Itís only when I hit the ground---

It causes all the grief.Ē

Scratches and scrapes seemed to be the extent of my injuries, so I brushed myself off, repaired my coiffure casualty, and hobbled to the car. I felt like the wounded and bewildered paratrooper who pulled the rip cord to the auxiliary chute . . . that never opened.

Two days later, Lanny was skiing while I was enjoying a Swedish massage at the nearby spa. The massage therapist probably thought sheíd seen every tattoo imaginable. ďIíve not seen one like this,Ē she said. ďIs it supposed to be the state of Ohio?Ē When she touched the navy blue splotch on my thigh, I winced and realized she had found the granddaddy of all bruises. ďClever,Ē she said. ďAnd this other one must be the Chicago mass transit map.Ē She touched it, but it didnít hurt.

I knew.