Local News
Fannin Rural Rail moves ahead
Mar 30, 2013
On January 17, the Fannin Rural Rail District Board received an interest-free loan from Margaret Ford Bradshaw in the amount of $2000. This money they used to buy a white pick-up truck to be able to move workers, tools, and materials to where they are needed on the recently-acquired rail line.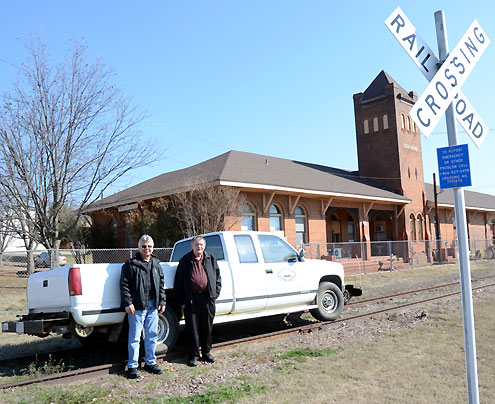 (L-R) Glenn Taylor, president of Fannin Rural Rail District and Price Bradshaw, FRRD board member
Volunteers, particularly David Davis and a group of hobbyists headed by Myron Malone, have already been busy cleaning and clearing sections of the right-of-way, but they have been limited to just a few at the time due to limited transportation capability. The truck will contribute greatly to overcoming that problem.
The truck has been outfitted with flanged hi-rail guide wheels for running on the track. These can also be lifted out of the way to make the truck street-legal. Only one thing is lacking before the truck goes into service: a set of wheels and tires designed for use for running on rails.
Several board members and other interested parties are conducting a nation-wide search that is expected to turn up a set of wheels and tires very soon. So you may soon see the Fannin Rural Rail District truck "workin' on the railroad."
Look for this logo on the side of the truck!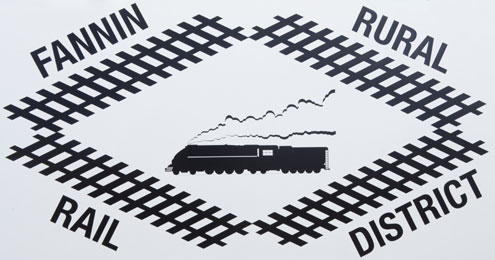 The diamond-shaped design of this Fannin Rural Rail District logo is reminisent of a Texas & Pacific Railroad logo, while the steam engine pays homage to the steam engines that transported produce and passengers in this area beginning in the early 1870s.