Front Page
Hagerman National Wildlife Refuge to conduct prescribed burns
Feb 25, 2013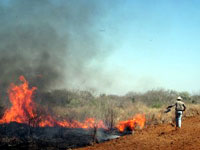 Hagerman National Wildlife Refuge personnel and fire management specialists from Wichita Mountains National Wildlife Refuge in Oklahoma are planning to conduct prescribed burns at Hagerman Refuge during the week of February 25, or at any time during the next month as weather permits.

Three management units are scheduled to be burned and will be closed the day of and day following the burn. During this time, visitors can expect portions of the Big Mineral, Sandy, and Godwin Units to be closed to public access for public safety.

The purpose of the burns is to improve refuge habitat and reduce the number of unwanted eastern red cedar, honey locust, and mesquite trees that have invaded grasslands. In addition, nutrients will be returned to the soils and the amount of vegetation available to sustain a catastrophic wild fire will be reduced.

For more information, please contact the refuge at 903-786-2826.