Entertainment
Audrey Auld at Harmony House March 23
Mar 23, 2013
Devils are not the only thing to come from Tasmania. Audrey Auld's heart is in Country, Folk and Americana music with a presence as big as The Outback. Her songs are the wry and poignant observations of an Aussie girl living in California and then Nashville, since 2003.
An honest and witty writer, Audrey is never afraid to venture into the dark places of life and shine a humorous light upon them. Her songs are heard on the Grand Ole Opry and Fox TV shows "Justified" and "The Good Guys." Auld's 2012 album Resurrection Moon is a retrospective collection of tracks taken from her 10-album catalogue. Wood is a 5-track acoustic tribute to Woody Guthrie.
Auld lives in East Nashville with her husband, dogs, chickens and frogs, growing food, writing songs, recording and touring.
Harmony House Concerts is so pleased to present singer-songwriter Audrey Auld on Saturday night, March 23, 2013, 7:30 p.m. - 9:30 p.m. Audrey has "awed" us with her performances at WoodyFest (the commemorative celebration for Woody Guthrie) each July for the past three years. This past summer, we approached her about appearing at Harmony House. She graciously accepted our invitation and has built a Texas tour around her appearance here.
Make your reservations by calling 903/583-2661, leaving the number of seats desired and your contact information (e-mail address or phone #). All proceeds go to the performing artist...$15 per person suggested donation. To prepay, make your check to Audrey Auld and mail to Faye Wedell; P.O. Box 812; Bonham, TX 75418, to be received by Wednesday, March 20. Refunds will be made for cancellations made by that same date.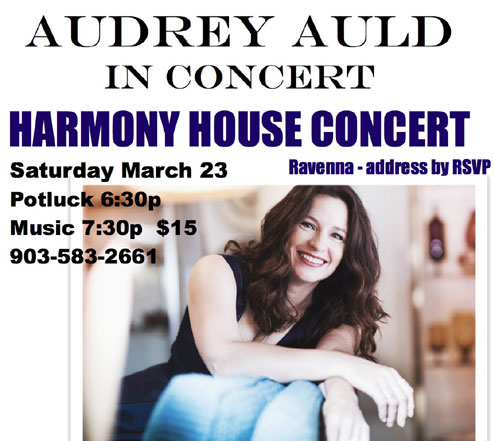 You may opt to pay at the door, but please respect the artist and the hosts by calling in advance if unable to attend. There may be a "waiting list" for the show, as reservations are limited to 50 persons.
Also, when making reservations, please notify if you need directions to Wildscape Acres where Harmony House is located...about 10 miles north of Bonham and 65 miles NE of Dallas area.
Check out our website, www.WildscapeAcres.com, to learn more about our natural surroundings and our 2013 Harmony House Concert schedule. If you'd like to join the @HarmonyHouse Celly group to receive concert notices (via text or e-mail), simply go to http://cy.tl/ZhSOwq.
The optional Old-Fashioned Homemade Potluck Dinner will begin at 6:30 pm. Please indicate when making reservations whether you plan to attend or not. This helps hosts, Faye and Scott, to make adequate preparations. If possible, let Faye know what you plan to bring, so she can assist in keeping the menu somewhat balanced...it's always a "juggling act", but turns out so delicious!
Song Circle after the concert. Bring your instruments, your songs, your voices, and/ or just your ears! It's Saturday night, so you can stay as late as you wish. Who knows? We might even have a campfire around the fire pit for this portion of the evening (weather permitting & burn ban lifted). Camping arrangements also available by contacting Faye & Scott in advance.