Front Page
Kathrynís Texas Kitchen
Feb 24, 2013
It was March 2, 1836, that the original and five copies of the Texas Declaration of Independence from Mexico were made and signed by 59 men at Washington-on-the-Brazos, Texas.

Only the original declaration exists today and will be on loan to the Alamo for the anniversary of its signing.
The birthplace of Texas is located southwest of Navasota, Texas. Mexico wanted settlers to come to the area of Northern Mexico but didnít want the new settlers to have a say in their government. With this document, Texians cut their strings with Mexico and created the Republic of Texas. David G. Burnet served as interim President until Sam Houston was elected President later that year. Texas was a republic until the United States annexed it in 1845.
In 1977 the Texas Legislature named chili the official state dish of Texas. Everyone who cooks chili believes their recipe is the best one ever. That shows why chili cookoffs are so popular and have spread from Texas throughout the country. I canít get enough of chili recipes. Hope you canít either. Iím always open to trying some new ingredient or special cooking technique that I havenít cooked before. Hereís another chili recipe to whet your appetite.
Thereís an interesting story behind this chili recipe. Samuel A. Maverick, a Texas pioneer, was a signer of the Texas Declaration of Independence from Mexico. He was a cattle rancher near San Antonio in Central Texas but he refused to brand his cattle. Thus, whenever cattle were found that werenít branded they were called one of ďmavericksí.Ē His great-grandson Maury Maverick, Jr. was a lawyer who also became a writer and columnist in San Antonio. He covered the original ďChili CookoffĒ in Terlingua, Texas, between Wick Fowler and H. Allen Smith in 1967. The San Antonio newspaper titled his column ďThe Great Chili Confrontation.Ē
Maverick Chili
Recipe adapted fromThe Great Chili Book, 101 Variations on ďThe Perfect Bowl of RedĒ by Bill Bridges
Ingredients
3 lbs. chuck or round steak, cubed
4 cups water
1/3 tsp cayenne
2 TB cumin
5 TB chili powder
2Ĺ tsp salt
5 cloves garlic, pressed
2 TB oregano
3 tsp sugar
3 TB paprika
1 8 oz can tomato sauce
2 TB masaharina (optional)
Other Items Needed
Measuring cups and spoons
Cutting board
Chefís knife
Large pot or Dutch oven
Wooden spoon
Pot holders
Instructions
Cook meat until gray in color. Add water and simmer for 30 minutes. Add remaining ingredients, except masaharina, and simmer for about 2 hours until meat is tender. Stir occasionally during cooking.
If you wish to thicken the chili, add the masaharina near the end of cooking time. Stir and heat to desired consistency.
St. Patrickís Day is coming upon us of Irish descent and those who are Irish for a day in North Texas. Kathrynís Texas Kitchen will share an Irish recipe for the holiday of everything green.
Until next timeÖ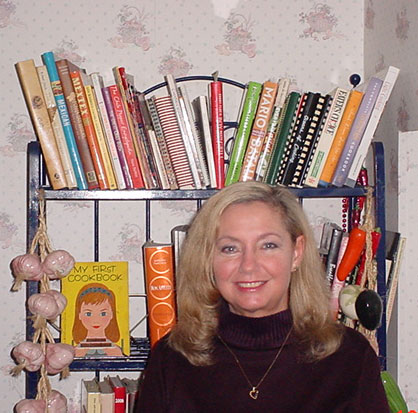 Bon appťtit!