Local News
Free mammograms offered March 15 at Red River Regional Hospital
Mar 12, 2013
Grayson County Health Department is the proud recipient of the Susan G. Komen for the Cure Grant. We have been allocted funding from Susan G. Komen for the Cure so that we can provide Breast Cancer Education, Clinical Breast Exams, and FREE mammograms to the citizens of Fannin, Grayson and Cooke counties.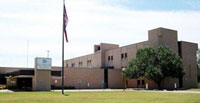 We are having a FREE breast clinic at Red River Regional Hospital in Bonham on March 15, 2013 at 9:00 a.m. Any Fannin, Grayson, or Cooke county resident that is 40 years of age or older, uninsured, or underinsured is eligible to attend.

There will be a brief breast cancer education portion and then FREE mammogram vouchers will then be given to participants so that they can receive a FREE mammogram at the hospital.