Columnists
The Red River - part 3
Mar 14, 2013
Red River County eastward is by all accounts, is as much Old South as the Mississippi River Valley. Stately Southern Victorian homes are in nearly all the little towns and the look of the landscape and the homes have an antebellum feel to them.
From the 1830s to the Civil War, steamboat freighters brought goods up from New Orleans and took back with them cotton and timber - the latter of which is still a staple of the area's economy.
The small communities that dot the backwoods of the northeast Texas Red River country harken to a time when the population was less centralized and more agrarian. Still, however, enclaves of citizens whose family histories run deep in the region still abide and numerous tiny villages are tucked neatly away in the woods. Their makeup is much the same - a smattering of houses, a cemetery, and a tidy little church.
Passing by one of the churches, I see a car parked outside late on a Wednesday afternoon so I walk in. Turning on the window unit air conditioners was Leonard Simington, a deacon for the Slate Rock Baptist Church. As a boy, I used to attend a church like this when I would visit my grandfather and it feels comfortable and Simington's affability made me feel right at home.
"I grew up around here," he says genially as he shuffles from the fellowship hall to the sanctuary, preparing the building for the Wednesday evening prayer meetings. The church is a small one and the sanctuary can't be more than about 1200 square feet but Leonard is proud of his church home.
"Here's where we installed a new baptismal," he says pointing to the shallow pool where believers are baptized. The small country church is decades old but its rural charm is inspiring to me and apparently, to Simington.
"I left for West Texas for a while but I always knew I wanted to come back. The people here are special and this place is special and I guess I just couldn't stay away."
His sentiments have been echoed throughout my journey. Red River people have a strong sense of place and identify themselves closely with the region and its citizens.
I finish my journey at where Texas, Arkansas, and Oklahoma meet at the Red. The river snakes back and forth so extremely, it seems like the river is one storm away from straightening its channel and leaving oxbow lakes in its aftermath. From here I stare north towards Oklahoma and think of my new friend Wildwood Dean Price.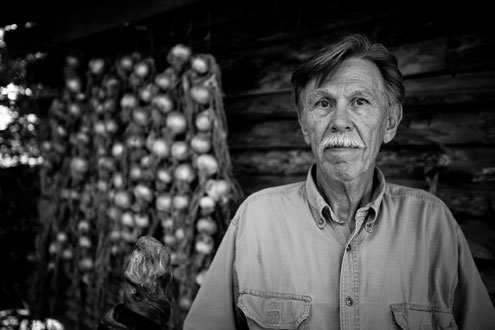 Dean Price - photo by Russell Graves
Price is an artist, author, and folklorist who floated the Red River across most of North Texas and wrote a book about his journey. His father was a commercial fisherman on the river back in the 1940s and Dean learned to love the watercourse from a young age.
At one time, he even made folk art furniture for Neiman-Marcus and gathered his materials from the banks of the river. He made his canoe trip through these switchbacks a decade ago bringing a lifelong dream of his full circle.
"Dad used to tell me that we would make a float trip from the head to the tail of the Red River," he says sitting in front of a wall of drying onions that are freshly pulled from his garden. "I think that was just a way to motivate me to graduate high school. Once I was out of school, I really didn't want to make a trip, I wanted to go to the city."
Dean says that he moved to Dallas in 1959 but was never happy living in the city and wanted to move back.
"When I moved back to the river in 1979 I took odd jobs and was looking for ways to make a living off the water."
After a trip to a folklife festival in Dallas, he connected with some retail buyers and began to make furniture and decorations made from willows and dogwoods that he harvested from the riverbank.
"The Red River enabled me to make a living and feed my family," he says. "I owe a lot to the Red River."
Any questions or comments? Contact Russell at russell@russellgraves.com or visit his website at www.russellgraves.com