Local News
Recycling fundraiser set March 2 in Sherman
Mar 2, 2013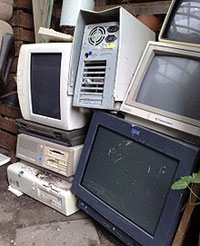 The Volunteer Services Council (VSC) of Texoma Community Center (formerly Mental Health Mental Retardation Services of Texoma) is sponsoring a recycling fund-raiser on Saturday, March 2, 10:00 a.m.-2:00 p.m., at 315 West McLain, (east side parking lot) Sherman. Everyone donating will receive a tax donation form. The VSC is a 501 (c) (3) non-profit organization as designated by the Internal Revenue Service and your donation may be tax deductible.

"Many questions have flooded the VSC office the last four years about this event. I would like to address some of the major questions. The number one question people have for the event is: Where is McLain Street? It is the first street to the north of where Travis and Lamberth cross. The number two question is: What do you do with the items taken to be recycled? We are working with a recycling company out of the metro-plex that has been in business for several years. The company will donate a set amount for every item the public donates. The company takes all the donated items and recycles what can be recycled. Many of the items can be resold. Parts from other items may also be resold. Any unusable materials will be recycled in an eco-friendly way. For example, if someone donates a car, the car will be repaired, if possible, and sold. If the car cannot be repaired, the parts will be sold off. Anyone wishing to donate a car, boat, RV, etc. will need to supply the title and register on-line at www.BubbFundraising.com. The number three question: Is this is a garage sale? No, none of the items will be for sale. Question four is: Do you take paint, batteries, and other hazardous materials? The answer is absolutely no. Televisions or home and office furniture will not be accepted either," says Harold Wright, Chairman of the VSC.

"The last four years the event has been a huge success due to the general public and businesses donating literally truck-loads of items. We hope it will be even more successful this time. The items can be in any condition: damaged, obsolete, non-working, or fully operational. For your peace of mind, delete personal information from your computers and cell phones. Businesses and school districts that have a large amount of items can call 903-957-4865 and arrange a special pick-up. Everyone else will need to bring their items the day of the event. We will not pick up items nor can we store them. Do not deliver items to our building before March 2," ended Wright.

A more exhaustive list of items can be found at www.mhmrst.org. Collections will include the following items; Computer Equipment; Cameras; Office Equipment; Entertainment Electronics (no televisions); Multimedia; Portable Electronics; Video Games; Sporting Goods; Musical Instruments; Home and Garden; Non-Fiction Books; Vehicles; ATVs; Collectibles; Pottery, Cookware Glass, and Dinnerware; Jewelry; Gold and Silver; Toys; Large and Small Appliances, Microwaves, etc.; and Scrap Metal.

Texoma Community Center has provided services in Cooke, Fannin and Grayson counties since 1974. The mission of the Center is to provide services that improve quality of life and support self-determination for persons with mental, intellectual, and developmental challenges.