Front Page
Arts in Bloom 2013 set April 13 in McKinney
Apr 1, 2013
Arts in Bloom 2013 set April 13 in McKinney
When: Saturday, April 13, 2013 from 10 a.m. – 10 p.m.
Where: Historic Downtown McKinney
On Saturday, April 13, 2012, McKinney Main Street, a 501(c) 3 Non-Profit Organization of the City of McKinney will be hosting and promoting the 2013 Arts in Bloom in Historic Downtown McKinney. We are anticipating 5,000 patrons to take part in the day-long event.
Local and regional artists will come out to play in downtown McKinney on Saturday, April 13, 2013. McKinney Main Street invites you to experience art in all forms as creative forte's blossom throughout the Historic District. This all-day event is a perfect opportunity to experience the magic of McKinney's historic shopping district during the spring season with art, music, food and much, much more.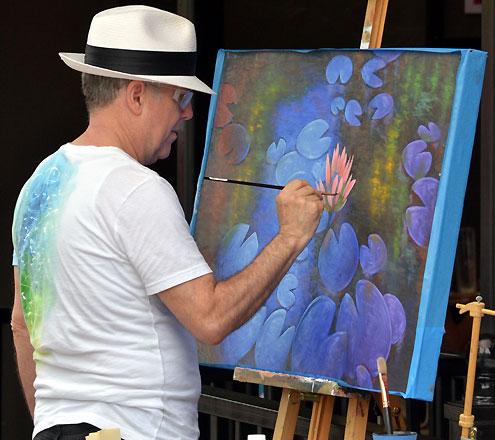 Joe Sambatoro works on his latest creation during the 2012 Arts in Bloom in historic downtown McKinney.
What to expect throughout the day (times vary for each event):
Over 150 local and regional artists will showcase their talents as they line the streets in store fronts throughout the twelve-block area of downtown for our community and beyond to take part in downtowns annual ArtWalk.

Sidewalks spring to life with color and creativity when artists' imaginations run wild at Chalk Walk on the sidewalks surrounding McKinney Performing Arts Center.

The Farmers Market at Chestnut Square

McKinney Musical Arts Society Young Artist Piano Competition at the Heard Craig Center for the Arts.

McKinney Has Talent at McKinney Performing Arts Center in the Courtroom Theater.

Second Saturdays in downtown McKinney will round off a perfect spring day as the evening kicks into full energy with live music, gallery exhibits, and many stores saying open for the evening crowds.
For a complete listing of event activities, please visit www.downtownmckinney.com or call McKinney Main Street at 972.547.2660.