Local News
Construction begins on Park & Ride Terminal at Midway Mall Sherman
Feb 24, 2013
Construction permits have been issued by the City of Sherman for the construction of the largest park and ride facility yet to be built for the TAPS Public Transit system.

The 2,600-sq.ft. space at Midway Mall in Sherman will provide a large waiting area, access to route and schedule information, and more than 300 parking spaces for park and ride commuters.

TAPS Public Transit CEO and Executive Director, Brad Underwood, said the new location fills a need for an expanding number of work and school commuters using public transportation in North Texas. "We doubled our original planned space based on increasing ridership interest after the launch of our Go Red River Route between Texas and Oklahoma," said Underwood.
Underwood said the main park and ride facility at the TAPS headquarters building is maxed out.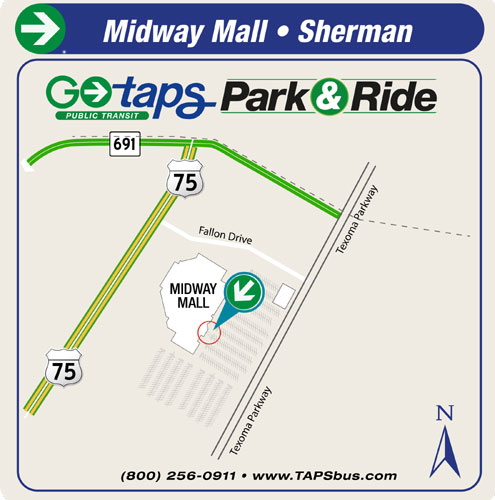 Riders have direct access through a dedicated entrance from the parking lot from 5:00am until 10:00pm 365 days a year. During regular mall operating hours, riders can also enter the terminal area directly from the mall common area at the mall's east main entrance.