Local News
Oakwood Cemetery is on-line
Mar 17, 2013
Oakwood Cemetery in Honey Grove has joined 156 other cemeteries in Fannin County with detailed on-line information. The Fannin County TXGenWeb Project, headed by Suzie Henderson, has focused its efforts over the past six months to provide on-line information for the more than 5600 burials at Oakwood. Check it out at
http://txfannin.org/cemetery.php?cem_id=92
Each person buried at Oakwood has their own separate memorial page, which contains a photo and transcription of the tombstone. Many pages also include obituaries, death certificate information, funeral cards and personal photographs.
The photographs of the stones were taken by Carole Curry, Larry Standlee and Suzie Henderson. To date over 2000 Oakwood obituaries have been scanned and transcribed from the obituary collections of Vergie Kirk Smith, Alma Braudrick, Johnny Avery and a number of Honey Grove families. Typist volunteers from across the country and even Ontario, Canada have provided the transcriptions of the obituaries. Over 700 funeral cards from the collection of Vergie Smith were scanned and posted to the individual pages. Death certificate information (an ongoing project) has been transcribed from the online collection at FamilySearch.org.
Pages are also being created for individuals whose obituary, death certificate or other information shows a burial at Oakwood but for whom no tombstone has been located.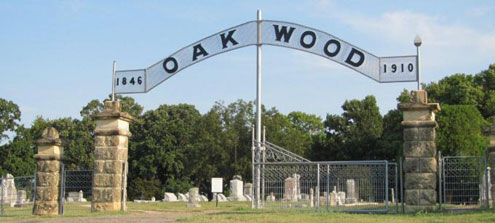 Malinda Allison, who has been collecting photographs of individuals buried at Oakwood for some time from various local sources, is beginning the process of posting photographs to individual pages. We encourage those of you with relatives, loved ones and friends buried at Oakwood to share your photographs with us so that we may post a photo of these individuals to their pages. You can make an appointment for the scanning of photos with Malinda by calling the Bertha Voyer Memorial Library in Honey Grove at
903-378-2206
, where scanning equipment is available. Or email your photos to
txfannin@gmail.com
.
This project has been undertaken in coordination with the Oakwood Cemetery Association.
If you do not have an internet connection at home, you are encouraged to access Oakwood Cemetery On-Line at the Bertha Voyer Memorial Library. We're happy to help!