Front Page
McKinney Senior Recreation Center hosts Wellness Seminar Feb. 20
Feb 20, 2013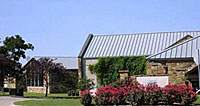 McKINNEY, TEXAS – The McKinney Senior Recreation Center will host a Physical Wellness Seminar titled "The Necessity of Strength in Aging-Get Stronger, function younger, live better!" presented by Matt D. Essex, Founder and CEO of ActiveRx – Active Aging Centers. The seminar will be held on Wednesday, Feb. 20 at 9:30 a.m.

ActiveRx is a co-sponsor of the 2013 Senior Fitness Kick-Off event consisting of wellness challenge and educational seminars. The seminar is a part of a series of seminars promoting six dimensions of wellness. ActiveRx is a Chandler, AZ.-based company and national leader in preventative senior healthcare that focuses on the connection between strength maintenance, independent living and a high quality of life.

The McKinney Senior Recreation Center and Senior Pool is located at 1400 South College Street in McKinney, located between Eldorado Parkway and Wilson Creek Parkway. For more information please call the center at (972) 547-7491.