Columnists
Crow's-Feet Chronicles: This little piggy went to market
Mar 9, 2013
It's not that I had sick manis and pedis that needed curing, but I entered the front door of the nail salon on Saturday to get a free estimate. (The arm and leg I gave to them later looked really, really good, though.)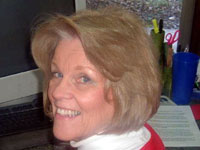 I can't perform self-pedicures any longer without cutting off my breathing (not to mention the hazard of stepping on razor-sharp curls from flinging clippings), so money for professional pedicures is no longer an object. A basic pedicure costs $25, and I considered offering my grandkids the business venture of $20 per trim. Even if the children DID have the stamina, Lanny cautioned me about allowing small children with sharp instruments near my flesh. Truth be known---a 100-dollar bill wouldn't entice them to orchestrate their grandmother's foot grooming.

When I sat in the leather chair at the salon, I felt I was joining the Final Frontier at the controls of the Starship Enterprise. I'm no trekkie, but it was some kind of wonderful as I let myself sink into the soft-pillowed sections of the massive recliner. Then I removed my shoes and placed my gnarly dogs in the hot, jet-propelled water bath. That's when the setting turned crime scene.

Very little English was spoken while I was getting my knee-jerking pedicure. I ignored the giggles exchanged between the technicians who appeared to be comparing casualties. From my vantage point in a pedicure area with multiple pairs of young, tanned feet, MY technician drew the short straw. Soon, the punches and rolls from the leather-cushioned seat took my shoulders, back, and buttocks to another planet as I was kneaded, punched, wash-boarded, and vibrated---all while my feet were being pedified, petrified, and edified. Even my teeth became loose.

Following my rigorous pedicure, I was a walking noodle strapped to Hobby Lobby foam paddles and wobbling my way to the manicure table to ask for clear gel polish with white tips. "And narrow---not wide---tips."

"Not white tips?" he asked.

"Yes to white; no to wide."

"Yes white; no white?" he asked again.

"Right. White but not wide."

"If not white---what?" The nail tech was looking bewildered.

"Never mind. Yes---WHITE AND WIDE!"

"Good."

While I sat and soaked up the finger massages and lotion slathers on my knuckles, I watched several women enter the front door and walk past the manicure and pedicure stations and through a door marked WAXING. I couldn't tell if the ladies got a "third-date" bikini wax or an eyebrow wax, but they all looked startled when they left.

It's not that I'm not in touch with my inner emery board, but I've learned that an occasional professional manicure enables me to easily maintain my pair of keyboard-clicking work horses.

Somehow I've managed to find other things to do to fill the time I once spent on chewing raggedy cuticles. Looking back, Saturday was a cha-chinging experience.

But I nailed it.