Front Page
Busy weekend at Lake Fannin
Feb 19, 2013
Ivanhoe, Texas -- Even as concern grows regarding the Forest Service's long-term plans for Lake Fannin, Saturday was a very busy day at the sprawling 1,700-acre complex.
Hikers took advantage of the crisp, clear morning to stroll along the four-mile hiking/biking trail that runs along the ridges that encircle the picturesque 45-acre lake.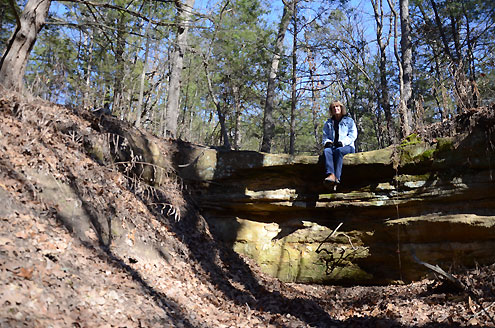 A hiker from Grayson County pauses for a breather on a scenic rock formation.
Built in the late 1930s by the Rural Resettlement Act and using a labor force taken from county relief rolls, Lake Fannin was considered the place to go in the '40s and '50s for outdoor recreation. Thanks primarily to the efforts of Lake Fannin Volunteers, the historic lodge and several cabins have been restored.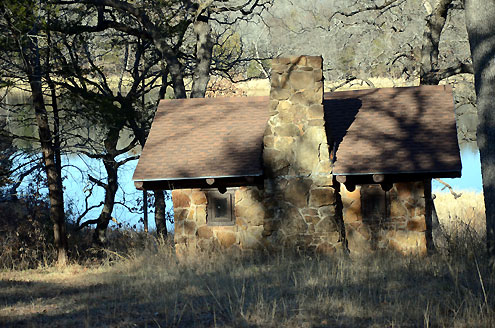 A restored cabin that was built in the late 1930s.
The lodge was the center of attention Saturday evening as a steady stream of cars brought a large wedding party to this remote and romantic location.
Other visitors to Lake Fannin included a couple from the Dodd City area who had heard about the uncertain future of this scenic area and wanted to look over camping facilities.
Unfortunately, Lake Fannin Volunteers can no longer rent out campsites due to the fact that the Forest Service failed to renew a Concession Agreement with the local volunteer group that has been using proceeds from rentals to restore the site since 1996. The Concession Agreement ran out in 2011.
If you would like to learn more about the dilemma facing the volunteers who want to continue restoring the Lake Fannin complex, please attend the next meeting of Lake Fannin Volunteers scheduled to begin 6:00 p.m. February 28.