Front Page
Randy Farmer returns to Bonham Public Library March 4: Curly Bill: Legend or Reality?
Mar 4, 2013
The Bonham Public Library is pleased to once again present Randy Farmer for a colorful look at a North Texas legend, Curly Bill Brosius, outlaw and then—Chief of Police? Mr. Farmer will present this interesting life story on Monday, March 4, at 7:00 p.m. at the Library.

A "culture of silence" surrounds William Albert Brosius. Was he born in Texas? As the most famous outlaw in Arizona in the 1880s, did he die by the gun of Wyatt Earp or survive to be a family man and Chief of Police in Paris, Texas, dying in 1909? Why does the Wyatt Earp legend overshadow Curly Bill's?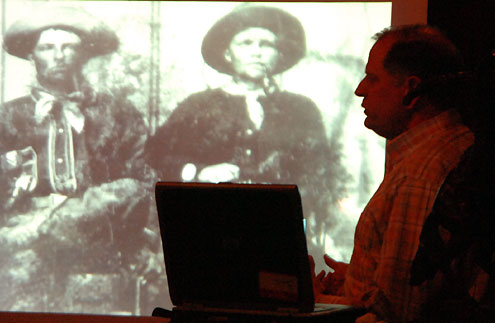 Randy Farmer shows a photo of a pair of buffalo hunters from Fannin County.



Native Texan Randy Farmer has taught at the college level and has published numerous books. He is a member of the Collin County Historical Society and the winner of the Rex MacBeth Scholarship Grant from the Wild West History Association for research on Curly Bill in 2008. His interest in the more notorious members of our society's past brought him to the Bonham Public Library in June of 2009 for a revealing and entertaining talk on crime and Fannin County in the 19th century.

Please join us for another fascinating evening.

Monday, March 4 at 7:00 p.m.
Bonham Public Library
305 E. 5th 903-583-3128

Everyone is invited to attend.

Sponsored by the Bonham Public Library and the Fannin County Historical Commission