Front Page
Kathryn's Texas Kitchen
Feb 17, 2013
Texas Independence Day is March 2.

In honor of my native Texan heritage I'm sharing another native Texan's, President Lyndon Baines Johnson, original chili recipe.

Actually, it's Mrs. Johnson's recipe but she put his name on it.

Mrs. Johnson was also a native Texan.

Chili became the official state dish of
Texas
in 1977 by the 65th Texas Legislature with lobbying from CASI (Chili Appreciation Society International).
LBJ was born on August 27, 1908, on a ranch outside of Stonewall, Texas, with the Pedernales River running through it. If you've ever made a visit to this ranch in the Texas Hill Country, you know how beautiful our great state is.
My family first visited LBJ's Ranch when he was Vice President. Visitors weren't allowed on the property those days. However, it was neat when the Secret Service agent at the ranch's front gate answered Daddy's questions with "Yes, Sheriff." As always, Daddy had his law badge pinned to his shirt.
We did tour the ranch after President Johnson was no longer in office. I have toured it several times since then. There is now a Texas State Park nearby, the Lyndon Baines Johnson State Park and Historic Site, where you can sign up to take the official tour and visit the ranch, the "Texas Whitehouse". I highly recommend it. In fact, we're planning to take another visit there this spring when the bluebonnets are blooming.
In my days of working as a Texas pipeline inspector I traveled across more Texas ranches than I can count to check on the safety of pipelines. This ranch is equal in beauty to any I've ever seen.
President Johnson served the U.S. House of Representatives, then he was elected as a U.S. Senator until January 3, 1961. From there he served as Vice President followed by his service as President of the United States. A stellar career. However, he always took Texas chili with him no matter which office he served. Air Force One with LBJ's Texas Chili was a first.
The Congressional Club, an organization of spouses of Congress and other offices, publishes a cookbook every year with proceeds benefiting several charities. Johnson was Vice-President when the 1961 edition was published and Mrs. Johnson provided this recipe for Texas chili. The chili had become so popular that Mrs. Johnson had the recipe printed on cards so staffers would no longer have to prepare copies individually. You can view this published recipe at www.lbjlib.utexas.edu/johnson/_/faqs/Recipes/chili.asp.
Pedernales River Chili
Recipe adapted from The Great Chili Book, 101 Variations on "The Perfect Bowl of Red," by Bill Bridges
12 servings
Ingredients
4 lbs. bite size or chili grind venison, if available, or well-trimmed chuck
1 large chopped onion
2 cloves garlic, minced
1 teaspoon ground oregano
1 teaspoon cumin
6 teaspoons chili powder or to taste
1½ cups whole Ro-Tel tomatoes
2 cups hot water
2 to 6 generous dashes of liquid hot pepper sauce
Salt to taste
Other Items Needed
Measuring cups and spoons
Cutting board
Chef's knife
Frying pan
Wooden spoon
Large kettle or cast iron Dutch oven
Instructions
In a large frying pan, brown meat with onion and garlic until meat is lightly browned; Transfer ingredients to a large kettle or cast iron Dutch oven. Cook until light in color. Add oregano, cumin, water, chili powder, tomatoes, hot pepper sauce, and salt. Bring to a boil, lower heat, and simmer about one hour. Skim off fat during cooking.
Author Bill Bridges Note: Even more fat can be removed if chili is stored in refrigerator, allowing fat to rise to top and solidify, when it can be easily removed. LBJ preferred venison in his chili, and so did his doctor, because it is so lean and fat-free. Ground beef heart is leaner still, and has a rich beef flavor with the added value of a high vitamin B content.
Kathryn's Texas Kitchen has another historical recipe to share.
Until next time…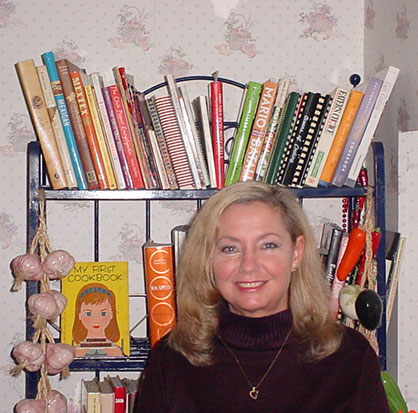 Bon appétit!
"Chili concocted outside of Texas is usually a weak, apologetic imitation of the real thing. One of the first things I do when I get home to Texas is to have a bowl of red. There is simply nothing better." - Lyndon B. Johnson, 36th President of the United States