Lifestyles
Letís get growing!
Mar 1, 2013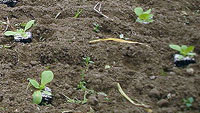 The few days that were warm stirred my desires for ďfresh from the gardenĒ veggies. With that old ground hog predicting an early spring (Easter is March 31!) Iím really ready to see those new plants breaking out. There is also the whole Ď4 to 6 weeks before last frostí date for starting some of the most popular veggies.

Guess what right now is? Here in Fannin County, our average last frost date is March 18. Thatís in the 4- to 6-week time frame. Yes, we might have a frost after that, but the average is the concern. If it gets cold, you simply protect your plants.

So what can you plant in the ground right now? Quite a lot, actually. You can plant spinach, carrots, lettuce, and, after Valentineís Day, potatoes.

All of those listed will do well in our area. But if you wish to try some exotic vegetable, by all means go ahead. Send us a note with what you chose, how you planted it and how it performed. I like to grow things.

Donít have room for a garden or donít have your garden spot ready? Start now in containers. You can grow a salad garden in a Ĺ barrel-sized container. Just the right size for one or two people. Add a 5-gallon bucket-sized container for a tomato and you have the set-up for a fresh salad.

For more information on container gardening, vegetable gardening or saving your produce for later, contact the Texas AgriLife Extension office at 903-583-7453 or stop in at the South Annex, 210 S Main St., Bonham Texas.