Lifestyles
Amon Carter Museum of American Art offers Free Family Fun Week in Fort Worth for spring break
Mar 13, 2013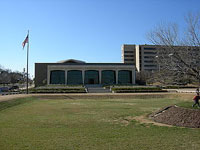 FORT WORTH, Texas — The Amon Carter Museum of American Art is pleased to announce the return of Family Fun Week. This free public program for children and their families is held during the week of spring break from Tuesday, March 12–Friday, March 15 from 10:30 a.m.–noon, and brings the museum's collection to life though art exploration and art-making activities.

"Sensational Seasons is the theme of this spring's Family Fun Week," says Jessica Kennedy, public programs manager. "Families will have a great time at the Amon Carter discovering works of art related to winter, spring, summer and fall as well as creating their own works of art."

The format of Family Fun Week is informal and is designed to bring families together and spark conversations about American art and artists. The museum's educators will be stationed throughout the museum to engage families and make connections between artworks and the season featured that day. During Family Fun Week, the atrium is set up as a creativity zone with stations for children and adults to make art inspired by the four seasons. Cookies and lemonade are provided.

Reservations are not necessary, but parents are encouraged to call 817.989.5030 or email visitors@cartermuseum.org for helpful information and parking tips. The Amon Carter Museum of American Art is open Tuesday–Saturday from 10 a.m.–5 p.m., Thursday until 8 p.m. and Sunday from noon–5 p.m. Admission is always free.