Front Page
'How To Become Debt-Free & Lower Your Stress Level' Feb. 19 in Sherman
Feb 14, 2013
TCOG hosts Partners In Education (P.I.E.)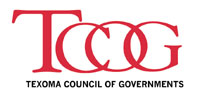 TCOG's Area Agency on Aging will be hosting the Partners in Education (P.I.E.) Series February 19, 2013 from 12 noon until 1:00 p.m. Robin McCoy, Regional Coordinator for Senator Tom Haywood and Senator Craig Estes, will be speaking on "How to Become Debt-Free & Lower Your Stress Level."

The meeting will be held in the Eisenhower Room (first floor) of the TCOG Building, 1117 Gallagher Dr., Sherman, and is also sponsored by Home Hospice of Grayson County, Texas Health Presbyterian-WNJ, Texas A&M AgriLife Extension Service and Christian Care Centers.

Ms. McCoy earned her bachelor's degree from Austin College and her master's from the University of North Texas. She has successfully facilitated financial, safety and personality awareness workshops for over 15 years in many venues.

For more information or to RSVP for the event, please contact Judy Conner at 903-813-3575 or jconner@texoma.cog.tx.us.