Front Page
Lake Fannin at crossroads
Feb 11, 2013
Ivanhoe, Texas -- A local group that has spent more than 14 years restoring historic structures at Lake Fannin and adding improvements such as a scenic hiking/biking trail that encircles the 75-acre lake now find themselves fighting to keep the park open for public use.
Lake Fannin Volunteers, the 501 (c) 3 organization created to preserve the historical property, has been struggling to continue making improvements at the sprawling 1,700-acre park complex since the U.S. Forest Service failed to renew its five-year Concession Agreement with local volunteers that expired in 2011. That important agreement allowed the volunteers to rent out the historic Lake Fannin Lodge in order to generate enough income to maintain the park and fund renovations at the 75-year-old recreational site.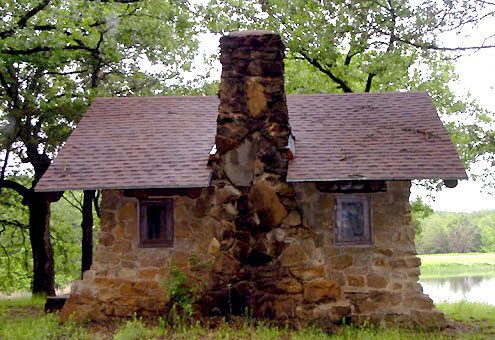 Lake Fannin Volunteers have completely restored four cabins and partially restored two cabins. Volunteers also restored the historic Lake Fannin Lodge, the bathhouse, the caretaker's cabin and dozens of camping sites. Lake Fannin Volunteers have removed trees from the lake dam three times.
Those closest to the dilemma say it appears the park is at a crossroads with four likely options.
The first option would be for the Lake Fannin complex to fall under the auspices of Texas Park & Wildlife Department and become a 1,700 acre Fannin State Park with a mile of frontage on Red River.
The second option would be for the Forest Service to renew the Concession Agreement which would allow Lake Fannin Volunteers to continue paying their own way as they continue reclaiming the sprawling recreational area that fell into a dismal state of disrepair in the 1980s and 1990s.
The third option would be for Lake Fannin to become the domain of Fannin County, perhaps with Lake Fannin Volunteers continuing to operate the park by renting out the Lake Fannin Lodge for weddings, parties and meetings.
The fourth option -- simply giving up and locking the gates to a site listed on the National Register of Historic Places-- would be a black eye for the Forest Service and a great loss to the burgeoning North Texas population that is already searching for outdoor, family-friendly activities. Proof of demand for outdoor opportunities comes from nearby Bonham State Park which reported a record fourth quarter in 2012.
"The one option that is not acceptable is to close the gates and deny public access," states Gabe Parker, current president of Lake Fannin Volunteers.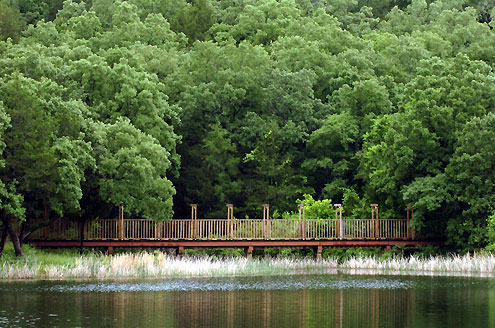 Volunteers built a four-mile hiking/biking trail with 36 bridges.
What can you do to help?
Join Lake Fannin Volunteers to support the continuing restoration of this historic 1,700-acre park.
For more information, write to Lake Fannin Volunteers, P.O. Box 123, Ivanhoe TX 75447 or email cyouree@cableone.net.