School News
Open house at Morning Star Academy in Bonham Feb. 9
Feb 9, 2013
Bonham -- Parents throughout the region who have wanted to learn more about Morning Star Academy will have an opportunity Saturday, February 9, 2013, from 9:00 a.m. until 11:00 p.m. The open house will allow parents to ask questions, pick up applications and learn more about S.T.A.R. scholarships, the primary source for tuition assistance at Morning Star Academy.
Located just north of Bonham at the corner of Hwy. 121 North and FM 898, Morning Star Academy will open in the fall of 2013 with a goal of integrating biblical faith and quality education for ages six weeks through kindergarten. Enrollment is underway and some classes are already filling up.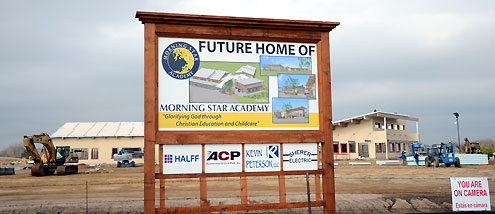 Infants, Toddlers, Transition, Pre-K3, Pre-K4, Kindergarten, plus Extended Care (before and after school care) and Summer programs will be offered. A variety of options include 2-, 3-, and 5-day plans.
"Parents will have a lot of flexibility to customize our programs to their needs," stated facility director Brandy Burns.
Tuition prices are comparable to daycare.
While the open house February 9 will be in the construction office on FM 898, campus construction will be completed this summer and another open house will allow the public to tour the impressive facility.
"We have made every effort to be good stewards of resources, so there are many green concepts incorporated into the design," says Mrs. Burns. "For example, all classrooms will have lots of natural light."
The integration of biblical faith and tradition education methods, state-of-the-art ICF (insulating concrete forms) construction technique and reasonable tuition prices at Morning Star Academy have drawn a remarkable response from parents throughout North Texas and southern Oklahoma.

To learn more about Morning Star Academy, please call 903-583-5974 or visit www.MorningStarLions.org