Local News
Supreme Court of Texas to hear arguments at Austin College
Feb 22, 2013
Annual Symposium for law professionals,
students to follow
SHERMAN, TEXAS— Austin College's 2013 Kenneth W. Street Law Symposium will offer a unique opportunity for students, professionals, and community members as the Supreme Court of Texas hears oral argument on campus Tuesday, February 26, in Ida Green Theatre of Ida Green Communication Center. Seating is limited; doors open at 7:30 a.m. and all attendees must be seated by 8:30 a.m. No backpacks, briefcases, cell phones, cameras, or recording devices will be allowed in the session. Appropriate attire and conduct for a court setting are required. There is no charge to enter the court proceedings. The event is open to the public. Any groups interested in attending should contact Lynn Womble, director of public affairs at Austin College, at 903-813-2891 regarding seating availability.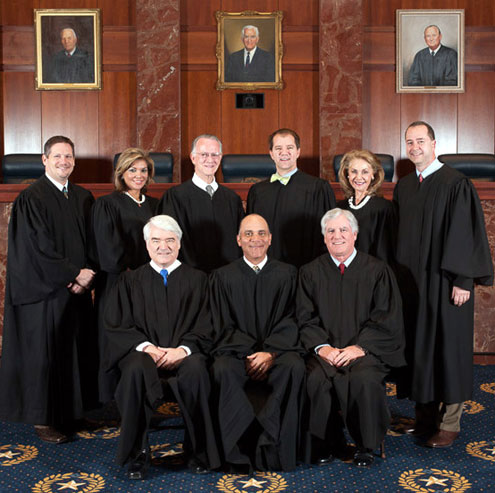 Supreme Court of Texas Justices: front row, left to right: Nathan Hecht, Chief Justice Wallace B. Jefferson, and Paul Green; and back row: Jeff Boyd, Eva Guzman, Phil Johnson, Don Willett, Debra Lehrmann, and John Devine
Following the court's session, the Street Law Symposium continues with a luncheon keynote address, panel sessions—one including Supreme Court of Texas justices, and a closing reception. Cost for the afternoon program is $50 for attorneys, except members of the Grayson County Bar who are discounted to a charge of $15 per person, and $25 for the general public. The sessions are free to Austin College students, faculty, and staff. The State Bar of Texas has approved 3.5 CLE hours ethics credit for the afternoon sessions. All attendees must register online: www.austincollege.edu/lawsymposium.
Supreme Court of Texas Oral Arguments
Having the Court at Austin College is a huge opportunity for students and local citizens, said Frank Rohmer, Austin College John D. Moseley Chair in Government and Public Policy and advisor for students preparing for careers in law.
"By hearing oral argument at Austin College, the Supreme Court of Texas will act not only as the highest judicial body in Texas but also as a judicial educator, preparing students for leadership and service in the American constitutional republic," Rohmer said. "The Court's presence provides students with a clear example of legal profession as a vocation with its highest calling to the lawyer-statesman ideal."
The Supreme Court of Texas heard oral arguments at Austin College in 2007 and has held other traveling court sessions, often on law school campuses.
Two cases are scheduled for oral argument before the Court on February 26:
§ Lee C. Ritchie, et al. v. Ann Caldwell Rupe, from Dallas County and the Fifth District Court of Appeals, Dallas
The principal issues are (1) whether shareholders and principals controlling a closely held corporation oppressed a minority shareholder by refusing to meet with potential buyers of her stock; (2) whether shareholder oppression should be proved by a "reasonable expectations" standard or by "burdensome, harsh or wrongful conduct"; (3) whether the state statute addressing oppression authorizes a court to order controlling shareholders to buy the minority shareholder's stock; and, if so, (4) whether such a stock-buyout remedy was appropriate in this case.
§ Greg Sawyer et al. v. E.I. du Pont de Nemours and Co., certified question from the U.S. Court of Appeals, Fifth Circuit
The federal court asks (1) whether, under Texas law, at-will employees may bring fraud claims against employers for losing their jobs and, if not, (2) whether employees covered by a collective-bargaining agreement, subject to a 60-day cancellation notice and limiting discharge to just cause, may sue over allegations that their employer fraudulently induced them to quit their jobs.
Composed of the Chief Justice and eight Justices, the Supreme Court of Texas is the court of last resort for civil matters in the State of Texas. The Court has final authority in all civil and juvenile delinquency cases in the state. Most cases to the Supreme Court of Texas come as appeals from decisions by one of the 14 courts of appeals in Texas. Not all appeals from the state courts of appeals are heard by the Supreme Court, which usually takes only cases presenting the most significant Texas legal issues in need of clarification. Each year the Court handles more than 3,000 appeals and other legal matters. The Supreme Court also supervises operations of courts throughout Texas, oversees conduct of Texas lawyers, and writes rules and procedures for civil and juvenile cases. Only cases with federal constitutional questions or federal law issues can be appealed from the Supreme Court of Texas to the U.S. Supreme Court.
Texas is one of only two states with two high courts: The Court of Criminal Appeals is Texas' highest court for criminal cases. (Austin College officials were pleased to welcome the Court of Criminal Appeals to campus fall 2012 for a similar session.)
Kenneth W. Street Law Symposium
Luncheon and Keynote
Led by keynote speaker The Honorable Thomas R. Phillips, retired chief justice of the Supreme Court of Texas and a partner at Baker Botts in Austin, the afternoon's program will explore "Views from the Bench and Bar: A Discussion of Ethics, Professionalism, and the Practice of Law."
THE SCHEDULE:
The luncheon and keynote address, "Independence, Competence, and Accountability—Texans and Texas Judges," by Retired Chief Justice Phillips will begin at noon in Wright Campus Center's Mabee Hall.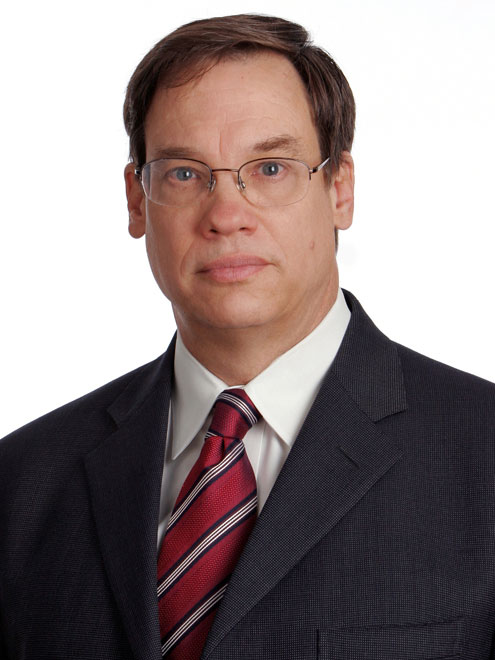 Thomas Phillips – Keynote Address
At 1:45, activities move to Hoxie Thompson Auditorium in Sherman Hall with the panel "Ethics and Professionalism in the Legal Profession Today—A View from the High Court." Moderator for the session will be Jonathan Smaby, executive director of the Texas Center for Legal Ethics, with Supreme Court of Texas panelists Chief Justice Wallace B. Jefferson, Justice Phil Johnson, and Justice Debra Lehrmann.
A 3 p.m. panel session on "The Legal Profession in the 21st Century" will be moderated by Retired Chief Justice Phillips, with panelists Nina Cortell, partner at Haynes and Boone, Dallas; Michael Jung, partner at Strasburger & Price, Dallas; Ken Carroll, partner at Carrington, Coleman, Sloman & Blumenthal, Dallas.
The final panel session at 4:15 p.m. will address "Legal and Governance Issues for Officers and Directors." Panelists will be Kevin P. Delaney, senior vice president, general counsel, and secretary at Quanex Building Products of Houston and Craig B. Florence, partner at Gardere. Dallas.
A 5:15 p.m. reception for all participants will be held in Collins Alumni Center.
Afternoon session sponsors include Andrews Kurth, Austin College Pre-Law Society, Austin College Student Assembly, Baker Botts, Carrington Coleman Sloman & Blumenthal; Grayson County Bar Association; Hatton W. Sumners Foundation; Hunton & Williams; Hutcheson Bowers; Jackson Walker; Pierce & O'Neill; Quilling, Selander, Lownds, Winslett, and Moser; Scott, Douglass, and McConnico; and Siebman, Burg, Phillips, and Smith.
About Kenneth W. Street
The annual symposium honors Austin College Professor Emeritus Kenneth W. Street. A professor of political science at Austin College from 1959 to 1997, Street held the John D. Moseley Chair of Government and Public Policy and founded and directed the Social Science Laboratory, which allowed students to experience field research, observe political and social behavior, and test hypotheses. He also served many years as the advisor for students considering careers in law and launched many professionals in the field.
Austin College is a leading national independent liberal arts college located north of Dallas in Sherman, Texas. Founded in 1849, making it the oldest institution of higher education in Texas operating under original charter and name, the college is related by covenant to the Presbyterian Church (USA). Recognized nationally for academic excellence in the areas of international education, pre-professional training, and leadership studies, Austin College is one of 40 schools profiled in Loren Pope's influential book Colleges That Change Lives.