Front Page
Kathryn's Texas Kitchen
Feb 3, 2013
I know you have gotten down the shrimp rémoulade for your Valentine's Day dinner appetizer from last week's column.
Now it's time to get your entrée ready for that very special romantic meal.
Here is a dish that you and your sweetheart will both love.
After literally reviewing 100's of recipes for Chicken with Forty Cloves of Garlic, a dish I've always wanted to cook, I finally settled on the one to try in my North Texas kitchen. Although this recipe seems to be complicated, it is really very easy. The flavors of the completed entrée are indescribably delicious. Whoever knew that garlic cloves could be so mild and creamy? Even my three oldest grandsons, ages 8-11, loved this chicken meal. That is definitely saying a lot for these three with totally different appetites from each other.
The recipe I finally decided to follow for Chicken with Forty Cloves of Garlic was from Ina Garten, otherwise known as the Barefoot Contessa. This is a recipe I had from both the food network website and my own autographed copy of her cookbook, Barefoot in Paris
After deciding to try her recipe, I read the food network's website reviews of this recipe. Several contributors wrote that Ina had added 2 cups of chicken broth with the wine when she cooked this recipe on television that weren't included in her published recipes. I missed viewing that episode. So when I cooked her recipe I added 2cups of chicken broth with the white wine when I followed the double recipe. Use just 1 cup of broth when you prepare the half recipe included herein.
The only other change I made was not adding the cognac with the wine and chicken broth. We don't use cognac in our Texas kitchen, so I didn't want to invest money into a cognac for just 3 tablespoons of it (for two different recipes). I just added a little bit more of the white wine to replace it.
I must tell you that this is a dish that is wonderfully delicious. I've never had any chicken entrée that came close to the wonderful flavors in this chicken and its sauce. If you're looking for something different from the standard roasted chicken, this recipe is for you.
Chicken with Forty Cloves of Garlic
Recipe adapted fromBarefoot in Paris by Ina Garten
Serves 3
Ingredients
3 whole heads garlic, about 40 cloves
1 3½ pound chicken, cut into 8 pieces
Kosher salt
Black pepper
1 TB unsalted butter
2 TB extra virgin olive oil
1 cup dry white wine or dry vermouth
1 cup chicken broth
½ TB fresh thyme leaves or ¼ TB dried thyme
1 TB all-purpose flour
1 TB heavy cream
French bread or toast
Other Items Needed
Measuring cups and spoons
Cutting board
Chef's knife
Sauce pan
Colander
Paper towels
Large pot or Dutch oven with lid
Tongs or spatula
Plate
Serving platter
Aluminum foil
Small bowl
Whisk
Instructions
Separate the cloves of garlic. Add water to the sauce pan and bring to a roaring boil. Drop all the garlic cloves into the water for 60 seconds. Drain the garlic and peel. Set aside.
Dry the chicken with paper towels.Season liberally with salt and pepper on both sides. Heat the butter and oil in the large pot over medium-high heat. In batches sauté the chicken, skin side down first, until nicely browned, about 3 to 5 minutes on each side. Turn with tongs or a spatula, you don't want to pierce the skin with a fork. If the fat is burning, turn the heat down to medium.
When a batch is done, transfer it to a plate and continue to sauté all the chicken in batches. Remove the last chicken to the plate and add all of the garlic to the pot. Lower the heat and sauté for 5 to 10 minutes, turning often, until evenly browned. Add the wine and the chicken broth. Return to a boil and scrape the brown bits from the bottom of the pan. Return the chicken to the pot with the juices and sprinkle with the thyme leaves. Cover and simmer over the lowest heat for about 30 minutes, until all the chicken is done.
Remove the chicken to the platter and cover with aluminum foil to keep warm. In the small bowl whisk together ½ cup of the sauce and the flour. Then whisk it back into the sauce in the pot. Raise the heat and add the cream. Boil for 3 minutes. Add salt and pepper to taste. It should be very flavorful because chicken tends to be bland. Use some of the garlic to add to mashed potatoes. Pour the sauce and the garlic over the chicken. Serve hot with garlic mashed potatoes, green beans or sweet peas, and French bread. Spread garlic like butter onto the bread.
To prepare ahead, refrigerate the chicken with the sauce and reheat over low heat before serving.
To complete your romantic Valentine's Day dinner an easy dessert is coming up from Kathryn's Texas Kitchen.
Until next time…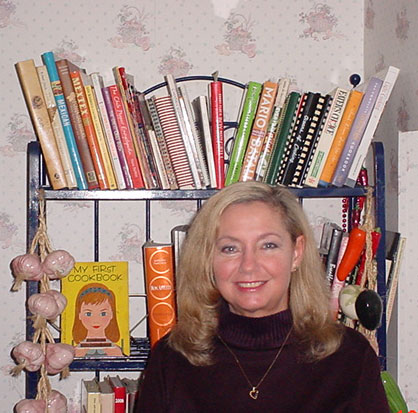 Bon appétit!