Entertainment
Orisons Fine Art Gallery Second Saturday events
Feb 7, 2013
Orisons Fine Art Gallery Second Saturday events
Selected Works by Terry Prescott
Artist Reception February 9, 7:00 p.m. - 10:00 p.m.
110 E. Louisiana St., McKinney, TX
www.orisonsart.com 972-529-1441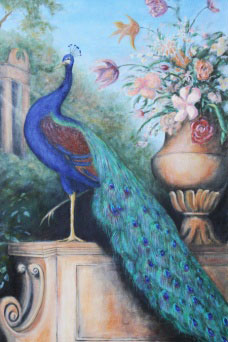 Orisons Fine Art Gallery is pleased to feature the paintings of Terry Prescott. Luminous colors and lush brushwork distinguish his landscapes and still life paintings.

Prescott mixes his own paints, using pigments and resins from around the world. His canvases reflect his extensive study of theory and Old Masters techniques.

Meet the artist and enjoy great refreshments.

Prescott will be painting live, ready to unveil the mechanics of his creative expressions.

Chester of Chestnut Square Exhibit,
Reception and Book Signing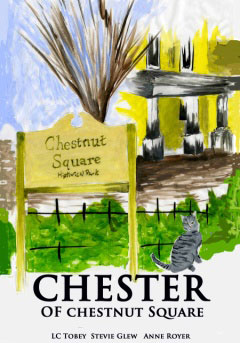 Orisons will be hosting the unveiling of the new book written about Chester at Chestnut Square, and illustrated by young artists of the Arts and Music Guild. On display will be originals paintings from the book. Join the gallery in celebrating this amazing venture, February 9 from 7:00 p.m. until 10:00 p.m.

Chester, the delightful cat that has adopted Chestnut Square, inspired L.C. Tobey and a team of four young people to devote their time and talent to telling his story in word and image. The result is a charming children's book that will help support Chestnut Square and the Arts and Music Guild. L. C. Tobey and the team of young artists have been dedicated to this project since last summer. Painters Carissa Pelouch and Logan Larsen chose the scenes to illustrate, the manner in which Chester and his backdrops were presented, and the flow of images and text. Stevie Glew worked further on the text begun by L.C. Tobey.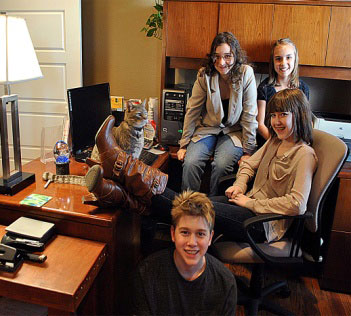 Chester's creative team
Madison Doak and Logan Larsen worked on scanning the illustrations, photoediting, typing the text, and laying out the book. All four students are MISD students, and study art privately with Annie Royer, working both in her studio and at home. Their passion was matched only by L.C. Tobey, who completed the final editing and publication process.