Front Page
BEDCo – sign of the times...
Feb 1, 2013
Bonham -- FREE PARKING while you shop and dine in downtown Bonham Provided by BEDCo and your "LOCAL" sales tax dollars! The new BEDCo-sponsored sign at the entry to the 3rd & N. Main Street parking lot is part of an on-going effort to highlight amenities in Bonham's downtown. It also reminds shoppers just how important it is to shop and dine right here in Bonham.
BEDCo Executive Director Steve Filipowicz said, "The new free parking sign on our lot downtown is a visual reminder to Bonham shoppers where their local sales tax is being invested."
He went on to say, "Bonham has a very attractive downtown, symbolic of the rich history this community has."
In addition to the free parking, BEDCo has invested significant local funds in underground electric utilities, adding period street lights throughout the historic district, and positioning benches and trash receptacles along sidewalks. BEDCo works closely with Bonham city staff to enhance landscaping of public spaces in downtown.
"These investments in our city's 'curb appeal' pay dividends everyday but sometimes we need to pause and remind ourselves and the community where these investments have been made," Filipowicz said.
BEDCo worked with Fannin County-based sign-maker Jim Crawford of Northeast Texas Sign Service in Ladonia. Jim's firm recently replaced a storm-damaged sign on the Bonham Visitors' Center. Filipowicz mentioned that "the quality of their work and the responsiveness of Jim's firm sparked me to approach him back in December about creating a sign for our parking lot. I'm very pleased with the result."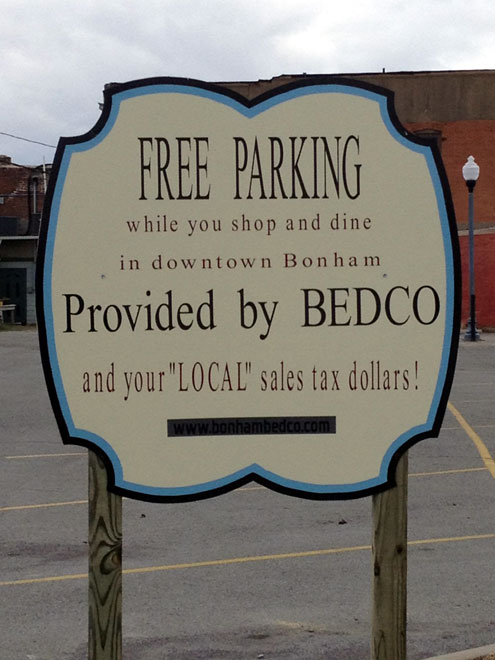 BEDCo invites you to keep your eyes open for other positive 'signs of the times' both on-line and across our community in the weeks and months ahead.