Columnists
Crow's-Feet Chronicles: Support is a la carte
Mar 6, 2013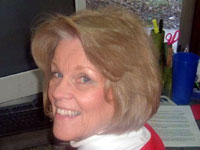 I'm no magician, but I pulled off the freeway and turned into a restaurant. (Pause for laughter.)

It didn't matter where I ate---I just wanted to beam myself from the fast-moving, four-lane highway to a lunch spot. Two Rows Restaurant proved to be a fairly good choice a few months back, so I joined the traffic flow that took the exit I remembered. Wait. That's not Two Rows. It's Twin Peaks. Oh well. Two Rows, Three Forks, Twin Peaks---probably all the same. Or not.

As I got out of the car and moved toward the front door with my usual step-limp walk, I noticed the sign that read "Scenic Views." "What," I asked myself, "could be scenic on Central Expressway?"

The words "twin peaks" didn't register until I walked through the doors. I'll go ahead and use that silly acronym---OMG! Twin Peaks, indeed! The hostess who greeted me was all lip gloss and cleavage. It was an uplifting experience.

The place was packed (and stacked!). All of the customers were men. Smiling men. Men with their lunches sliding down the fronts of their shirts. I whispered to the hostess with the (more than) mostess, "Do women come here?"

"Sure. There's one waaaay over there." She pointed to the far side of the restaurant where a woman was sitting at a table and working a crossword puzzle. It was apparent that this was not the place I had expected, but my arthritis messaged me to sit down ASAP. Looking at the floor, I quietly shuffled my Not Your Daughter's Jeans and turtleneck sweater to an out-of-the way table, sitting with my back to the slobbering crowd. Maybe they thought I was an anthropologist (emeritus) doing field research.

The Dallas Cowboy Cheerleaders wear Carhartt overalls compared to those chicks. I couldn't help "butt" notice the waitress who paused at the table next to mine. A spider lily tattoo fanned above the back of her hip-hugging shorts like the tentacles of an octopus. To think---that's same spot she'll get her cortisone shots when she suffers from lower back pain in about 35 years. And she doesn't know it yet, but the MRI will reject her ball bearing tongue and paper-clipped lip.

I quickly ate my Cobb salad and asked for the check. The lone credit card tip for the day was mine. All other tips encircled the spray-tanned waists like currency tutus.

I knew what my cowboy table neighbor was up to when he removed his hat and began adjusting the stampede string. He was calculating his waitress's size---6 7/8. It was proof to me that men CAN pay attention to two things at once.

No Wonder.