Lifestyles
Park Place dealerships donate $25,000 to Grapevine Historical Society
Feb 23, 2013
In 1972, the Grapevine Historical Society was born out of an effort to save the historic 1888 Cotton Belt Railroad Depot. One year later, the museum was dedicated by Grapevine Mayor William D. (Bill) Tate, and for the past 40 years the Historical Museum has welcomed visitors from all over the world.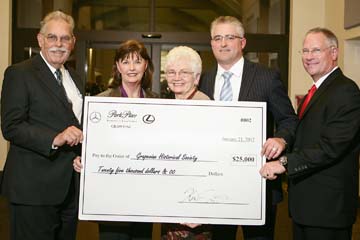 Grapevine Mayor William D. (Bill) Tate; Margaret Harper, Grapevine Historical Museum Fundraising Chairman; Joe Ann Standlee, president of Grapevine Historical Society; Robert Hinkle, General Manager, Park Place Motorcars Grapevine; and Gary Venner, General Manager of Park Place Lexus Grapevine.



A new chapter will be written as the Grapevine Historical Museum is a little closer to moving into its new building at 206 West Hudgins later this year thanks to a $25,000 donation from Park Place Lexus and Park Place Motorcars.

"We are so excited to have such generous support from Park Place," said Margaret Harper, fundraising committee co-chair for the Grapevine Historical Society. "Through this and other corporate giving, we will be able to meet our goal of moving into our new facility by the end of the year. The museum is a fabulous venue that chronicles Grapevine's rich history."

The Grapevine Historical Society will move its collection into a new facility located at 206 West Hudgins, with the façade of the 1970s Grapevine Ice Company. This will increase the museum's space from 900 square feet to approximately 3,000 square feet. The new facility will allow the Museum to expand and enhance its current displays and provide space for temporary exhibits.

The new Museum will feature:

· precious artifacts, maps, and photographs, donated by multi-generations of Grapevine residents and representing over 150 years of history

· permanent and rotating exhibits

· on-site docents to give an oral history and explanation of the articles on display

· and "The Grapevine Attic," a special area with miscellaneous items found in grandparents' attics.

"We have been a part of the Grapevine community since 2000 when we opened the first of two dealerships in the city," said Ken Schnitzer, chairman of Park Place Dealerships. "There is a great history in Grapevine and we are pleased to be a part of preserving it through this donation for the new building."

Park Place Dealerships was founded in 1987 by Ken Schnitzer with a single Mercedes-Benz dealership on Oak Lawn. Park Place currently operates 15 full-service dealerships representing Bentley, Jaguar, Lexus, Lotus, Maserati, McLaren, Mercedes-Benz, Porsche, smart, Volvo and Rolls-Royce. In addition, the dealership group includes two Park Place Bodywerks locations. For more information, visit www.parkplace.com.