Entertainment
Harmony House Concerts presents Greg Trooper Feb. 17
Feb 17, 2013
A real "Trooper" comes to Harmony House Concerts!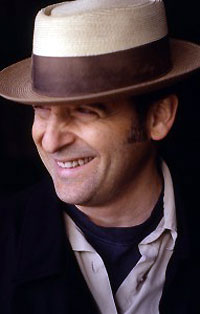 On Sunday, February 17, 2013, 4-6 pm, Harmony House Concerts will host singer-songwriter, Greg Trooper, singing and entertaining the audience with his captivating lyrics, melodies and audience appeal. Visit his website,
www.gregtrooper.com
, to learn more about his music and to even download one of his long out-of-print CDs,
Everywhere
, for free....tips are appreciated, of course!
You can also listen to some of Greg's songs and get acquanted with his history and style before you hear him "live" at Harmony House. (More about Greg in his bio below.) Also, I received my first reservations on Saturday, January 5 from some of his long-time friends/fans, Ernie and Debbie Mast who live in Dallas. Ernie shared with me their love for his work and that they have collected all 11 of his CDs. Since I have never personally heard Greg "live", I asked if one of them would care to comment about their personal perspectives of his work. Thanks to Debbie, here's what she wrote:
Greg Trooper's live music is even better than his CDs. Throughout his performance, the audience is introduced to colorful people by the use of intricate stories. His songs would be compelling in movie soundtracks. When a song ends, Greg leaves his fans wanting to "see" more of the story….
Greg will play two 45-minute sets with a 30-minute intermission for snacking, talking to friends and to the artists, or purchasing CDs. The suggested donation for Greg's show is $15 per person. Make your reservations for this "musical experience" by calling 903/583-2661, leaving the number of seats desired and your contact information (phone # or e-mail address). To prepay, make all checks to Greg Trooper and send to Faye Wedell; P.O. Box 812; Bonham, TX 75418, to be received by Wednesday, February 13th. You might even want to treat your "sweetie" to a late Valentine surprise by bringing her to Greg's performance.
Guests with reservations may opt to pay at the door. However, if you make a reservation, please be respectful of the artist and the hosts by cancelling by Wednesday, February 13, if you are unable to make it. Otherwise, you will be expected to pay for the show out of courtesy to the performing artist.
Bottomless cups of coffee, tea, and punches will be provided by the hosts, Faye and Scott, as well as snacks/treats for all to enjoy. There will be a basket on the breakfast room table for your optional $1 cash donation to help defray costs. Harmony House offers guests an opportunity to "kick back" and be a part of the show "close up".....a kind of intimacy you cannot find in many venues! It is located 10 miles north of Bonham, TX, and about 65 miles NE of Dallas area. If need directions, please specify when making reservations. Visit our website, www.WildscapeAcres.com, and check out our Harmony House link, plus get a feel for this unique venue.
After the show, guests are invited to stay for an optional "Build-Your-Own" Taco Salad Potluck dinner. Please indicate your intent whether you plan to stay or not when making reservations, so we can have an accurate headcount and make necessary preparations. You can also let Faye know is you know what you choose to bring to the table that night in the way of taco salad ingredients or a dessert....she's the menu coordinator!
For those wishing to stay and partake of a Song Circle, that is always enjoyable for all....a kind of "nightcap" to an ideal evening! You can bring your instruments and jam; sing the songs you've written or those of others; maybe, even have a "hoot" where folks sing-along at times....this is your creative time, even if just listen and encourage others!
Greg's bio...
Greg Trooper is a singer/songwriter who has released 11 albums since 1986. Raised in the shore town of Little Silver, NJ he became enthralled by the greater New York area's rich music scene. He discovered a sort of holy musical trinity in the work of Otis Redding, Bob Dylan, and Hank Williams, with their guiding lights of passion, literary dexterity and plainspoken honesty. It's one reason Trooper's music feels equally informed by Memphis soul, Greenwich Village folk and Nashville twang.
Trooper has made an impact on the music scenes in all the places he's lived since leaving home after high school: Austin, Texas, Lawrence, Kansas, Nashville and New York. Music critics praise his poetic feel, infectious melodies and insightful lyrics. Americana star Buddy Miller produced 1998's 'Popular Demons' album, while soul legend Dan Penn steered 2005's extraordinary 'Make It Through This World'.
His songs have been recorded by numerous artists including: Vince Gill, Steve Earle, Billy Bragg, Robert Earl Keen, Maura O'Connell, Lucy Kaplansky and Tom Russell.
Touring nationally and internationally, Greg usually performs solo but on occasion you can find him fronting anything from a trio to a five-piece band depending on the gig.

Quotes
"Greg Trooper writes great songs, including one of my very favorite songs in the world, Little Sister. On top of all that, there's his voice – an instrument I have coveted for 15 years." – Steve Earle
"Greg Trooper has got to be on our list of our finest contemporary songwriters." - Billy Bragg
"Greg Trooper is a songwriter and performer who deserves about 12 times the attention he's received. He knows how to play rock against country and folk and position the pressures of adulthood against the longing for adolescent freedom." - Dave Marsh
Greg Trooper's roots-rock can lean toward soul or country or Dylan, and it's filled with yearning and promises – Jon Pareles (New York Times)
"Great stuff from one of the great American songwriters" - Bob Harris, BBC Radio 2.