Local News
Ector ISD Board of Trustee Election
Feb 19, 2013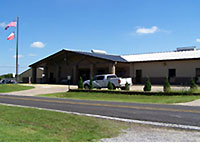 There are three Ector ISD Board of Trustee seats expiring this year. The first day to file for a Place on the Ballot was January 30, 2013. The deadline to file for a place on the ballot is March 1, 2013.

Anyone interested in running for Place 3, Place 4, or Place 5 must file by 5:00 p.m. on March 1, 2012. The election date is May 11, 2013, with early voting in person from April 29 to May 7, 2013.

Edwina Lane represents Place 3.

Joe Gentry represents Place 4 (appointed).

Tammy Mayo represents Place 5.

To qualify, candidates must be at least 18 and have lived in Texas at least one year by May 11, 2013. They also must have resided within the Ector Independent School District for at least six months by May 11, 2013 and be a registered voter.

For an application to place name on Board of Trustee Election Ballot, come by the Ector ISD Superintendents Office at 301 South Main, Ector, Texas.