Front Page
'Sensory in Your Life' discussed Jan. 30 in Bonham
Jan 29, 2013
Misty Hayes, Occupational Therapist at Clyde Cosper Texas State Veteran's Home will present the topic "Sensory in Your Life" on Wednesday, January 30 at 2:00 p.m. The presentation will be held at the TEAM Center, 806 West 16th Street in Bonham.
Ms. Hayes will offer a short introduction to understanding how the sensory input we encounter in our everyday life can influence our moods, our ability to concentrate, and even our motor skills. She will discuss the senses of vision, smell, touch and hearing. She will ask us to consider how modifying our environments can help us to achieve our performance goals for that particular environment. Choosing a new color for your room? Do you want to be alert, asleep or creative in the space? Having a hard time going to sleep at night? Should your room freshener be cinnamon, floral or citrus? Attend this presentation to get answers to these questions as well as other valuable and insightful information on our senses and how they affect our everyday life.
This event is free and open to the public. Complimentary pie from Cappy's Café will be served.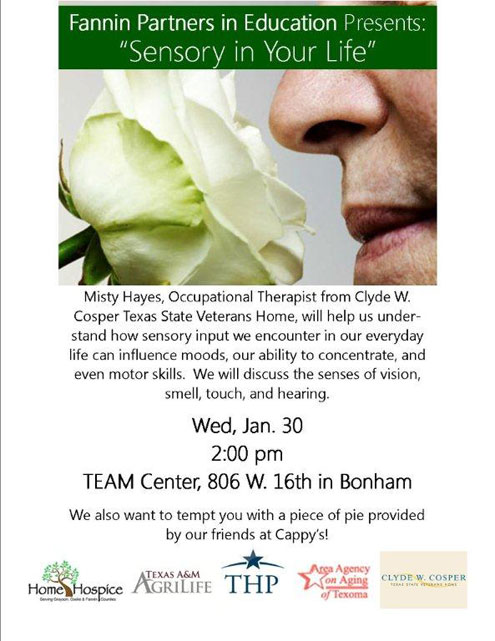 The presentation is brought to you by F-PIE (Fannin Partners in Education), which is a cooperation of local agencies including Home Hospice of Grayson, Cooke and Fannin Counties, Area Agency on Aging (TCOG), Clyde W. Cosper (Texas State Veterans Home), AgriLife Extension office (Texas A&M System) and Texoma Housing Partners.
On the last Wednesday of each month F-PIE hosts educational programs that enrich the mind or entertaining programs that tickle the funnybone. These programs are held at the TEAM Center with free pie and coffee served at each event.
Make plans now to attend this fun and informative presentation on Wednesday, January 30.