Front Page
Kathryn's Texas Kitchen
Jan 27, 2013
Valentine's Day will be here before you know it.
If you're planning to make a special dreamy dinner at home this year, I have a couple of recommendations for your meal.
My suggestion for an appetizer is not only quick and easy but also very delicious.
If you follow the instructions, it will look beautiful on your romantic table, too.
First, I want to share some information about the cookbook, and the chef and creator of this recipe. The cookbook 100 of the World's Greatest Recipes was published in 1976. A co-worker of mine in Austin had received the cookbook and neither he nor his wife was interested in cooking its recipes. I quickly accepted it when he asked me if I wanted it.
The author of this cookbook is none other than James Beard. He grew up in Portland, Oregon,eating the foods that were native to the area. Beard became a singer and actor as a young man. In 1937 he relocated to New York City. When his singing and acting talents weren't recognized by Broadway, he and a friend opened a catering company named Hors D'Oeuvré. Their intention was to capitalize on the cocktail party scene. Beard soon compiled his catering recipes and published them in 1940 as his first cookbook Hors D'Oeuvré and Canapés.
Beard's second cookbook was Cook It Outdoors in 1942. Then his attention turned to World War II. His major duty during the war was with the United Seamen's Service; he set up canteens for the sailors in many countries including Puerto Rico, Brazil and France.
Following the military part of his career, in 1946 Beard made an appearance on the television show "I Love to Eat" on NBC. That was the first television cooking show in the United States. Beard became an overnight sensation and instantly became known as a food authority.
He followed that success by making his New York brownstone, 167 West 12th Street in Greenwich Village, into the James Beard Cooking School in 1955. Then he opened a second school in Seaside, Oregon. Although he was teaching at the schools, he also taught around the country at other cooking schools and at civic groups and women's clubs. He continued to write cookbooks and food articles for magazines.
One of Beard's many cookbooks was the publication of The James Beard Cookbook in 1959. According to Encyclopedia.com, that cookbook reinforced his role as "America's leading food guru, preaching the gospel of honest American food to those who had earlier looked exclusively to Europe for guidance in all things culinary."
Beard died in 1985 and the next year Julia Child had the idea to save his Greenwich Village home so it could continue to be the gathering place it had been during his life. A former student of Beard's and the founder of the Institute of Culinary Education, Peter Kump, took charge of buying the house and creating the non-profit James Beard Foundation.
Invitations to prepare a meal at the James Beard House are highly coveted and respected throughout the culinary world. These chefs are not just locals from New York, but come from around the world. The James Beard Foundation celebrates his birthday the first Monday of every May and presents the Beard Foundation Awards to those who have achieved success in the food industry that year. These include not only chefs, but journalists, restaurants, restaurant designers, and cookbook authors among others. The awards are followed by a reception with tastings of more than 30 dishes. For more information about the foundation you can find its website at www.jamesbeard.org.
In his cookbook 100 of the World's Greatest Recipes, Chef Beard shares recipes he discovered during 60 years of travelling the world that he adapted to United States kitchens. The first recipe in this cookbook is Shrimps Remouladé which I suspect he discovered in Louisiana and most likely New Orleans in one of the many outstanding restaurants there. His original recipe is for 6 servings. However, to prepare a romantic Valentine's Day appetizer, I made a half recipe for you to try.
Shrimps Remouladé
Recipe adapted from 100 of the World's Greatest Recipes by James Beard, 1976
2-3 servings
Ingredients
¾ lb shrimp, peeled and deveined, leaving the tails on
Boston lettuce
Salt
Ingredients for the Sauce
½ cup mayonnaise
1 clove garlic, finely chopped
½ small onion, finely chopped
1 hard-boiled egg, finely chopped
4 sprigs parsley, finely chopped
½ tsp tarragon
½ tsp dry mustard
¼ tsp paprika
1/2tsp black pepper
Other Items Needed
Measuring cups and spoons
Cutting board
Chef's knife
Large pot
Large slotted spoon
Large bowl
Medium bowl
Whisk
Sherbet or stem glasses
Instructions
Fill the bowl with water and ice cubes. Fill the pot with salted water. Bring to a boil and drop the shrimp into it. Let the water return to a boil. Simmer for 4 minutes. Remove the shrimp and place them in the ice water to stop the cooking process. Then chill thoroughly.
In the medium bowl combine the mayonnaise, garlic, onion, egg, dill pickle and parsley. Season with tarragon, dry mustard, paprika and pepper. Whisk together blending all the ingredients well. Let stand for an hour or more before serving.
For each serving fill the glasses with Boston lettuce and the sauce for dipping. Arrange several shrimp around each glass so that the tails hang down on the outside.
Kathryn's Texas Kitchen prepares a sumptuous chicken entrée for a Valentine's Day dinner.
Until next time…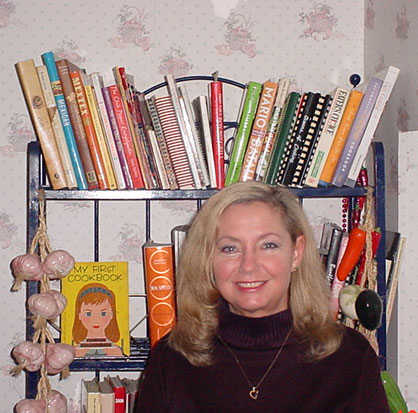 Bon appétit!