Front Page
City of Bedford awarded $100,000
Jan 26, 2013
January 25, 2013, Bedford, Texas -- The Texas Parks and Wildlife Commission approved Thursday $1.3 million in grants for city and county parks across Texas. The City of Bedford has been awarded $100,000 for continued development of the 68 acres of the Boys Ranch and Activity Center at 2801 Forest Ridge. The proposal includes such components as trail renovation and expansion, a fishing pier and dock, lake dredging, and a new playground. Funds for the 10 Outdoor Recreation grants and 2 Urban Outdoor Recreation Grants comes from the federal Land and Water Conservation Fund, (LWCF). Only twelve grants were funded out of the thirty-five requests.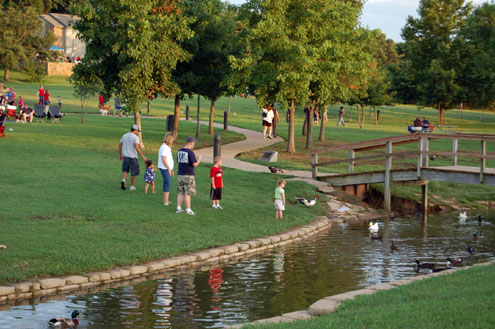 "I am excited the City of Bedford is receiving this Outdoor Recreation Grant of $100,000 from Texas Parks and Wildlife. This grant is a result of a tremendous amount of hard work from our dedicated parks and recreation board, city staff and the consultant. This grant will be a catalyst for starting the long anticipated improvements to the Boys Ranch Park," said Mayor Jim Griffin.
Jeannette Cook, Chair of the Parks and Recreation Advisory Board added, "On behalf of the Parks and Recreation Board we are extremely excited to receive this grant from the State. We have been working on this project since the 2010 development of the Boys Ranch Master Plan. This funding will allow us to move forward with needed improvements to the Boys Ranch Park, as well as provide new and improved amenities for the residents of Bedford."
The City of Bedford was incorporated in 1953 and honored to be celebrating 60 years of service. The city will host a free public event showcasing various departments on Saturday, March 2, 2013 from 11am to 3pm at the Old Bedford Library building. The Parks and Recreation department will be one of many booths that will have representatives on hand to answer questions.