Columnists
'The Plots Thicken' - A fascination with Willow Wild Cemetery
Jan 31, 2013
There's a Chinese Proverb: "A bit of fragrance always clings to the hand that gives roses."
A sweet scent of friendship between world-renowned pianist Van Cliburn and Bonham's Era Kelly permeated her home when 90 red roses were delivered on her 90th birthday. All because of the gift of a crocheted lap robe, as written by Jaqueline White in "Era Kelly: A Lifetime of Caring and Sharing," which appeared in The Bonham Daily Favorite on July 25, 1993.
By the time Era's son Dee J. Kelly, mentored by Speaker Sam Rayburn, became the founding partner of Kelly Hart & Hallman and named one of the ten most influential leaders in Tarrant County in the second half of the Twentieth Century by The Fort Worth Star-Telegram, he was already a long-time friend of Van Cliburn. And friends do what friends do: They take 'em home to meet Mama.
Van Cliburn is an American hero. He has been hailed as one of the most persuasive ambassadors of American culture, as well as one of the greatest pianists in the history of music. After his historic 1958 victory at the first International Tchaikovsky Competition in Moscow, Mr. Cliburn received a ticker-tape parade in New York City---the only time a classical musician has ever been honored with the city of New York's most prestigious tribute.
It wasn't the standing ovation at Carnegie Hall, the formal recital in the East Room of the White House, or the thrill of the Philharmonic Hall of Leningrad that hugged Van Cliburn's heart the most. It was Era's time and touch, as expressed through her fading fingers.
While Van Cliburn was receiving his 20th honorary doctorate degree for his incredible musical gift to the world, Era was sitting in her rocking chair and clicking her crochet hooks in a delicate skein ballet for Dee J.'s friend. Little did she know that more than seven dozen red roses would soon occupy every table, window sill, stool, book shelf and countertop in her little house in Bonham. And on every June 26, thereafter, Era welcomed the fragrance and beauty of a thousand petals.
Ralph Waldo Emerson wrote, "How cunningly nature hides every wrinkle of her inconceivable antiquity under roses and violets and morning dew!"
Van Cliburn attended the funeral of 99-year-old Era Kelly in Bonham on December 15, 2001.
Local attorney Sharron Cox remarked, "I met Van Cliburn at the graveside service, and I was amazed at his soft hands."
The earth softly cradles Era's folded hands at Willow Wild Cemetery . . . and roses STILL fill the air.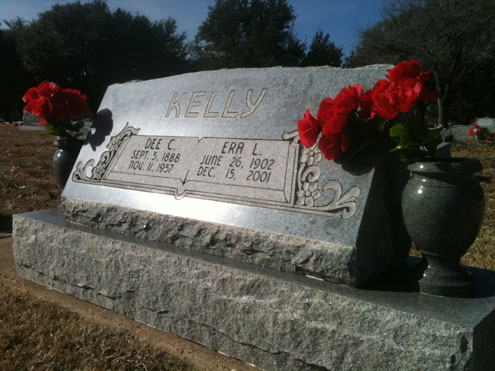 Era by any other name…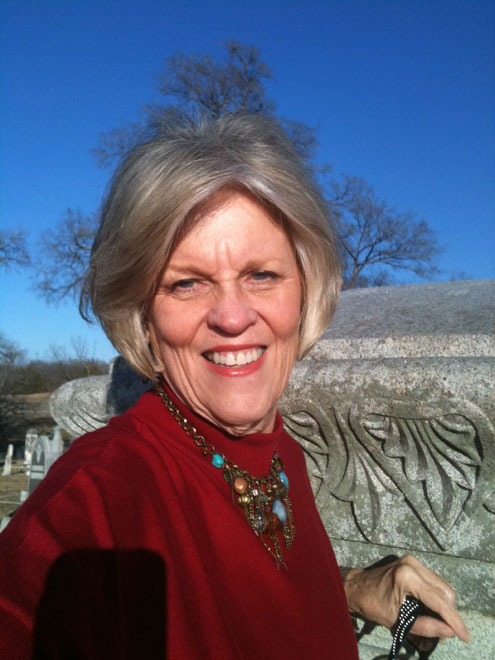 Cindy Baker Burnett