School News
TAPS Public Transit announces Pink Bus Scholarship Program
Jan 28, 2013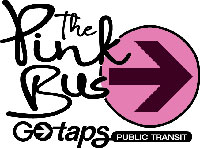 The TAPS Pink Bus has been rolling throughout Texoma providing an extra helping hand to those fighting cancer by relieving their transportation difficulties. Now TAPS is announcing another way the Pink Bus will be providing support in the community.

Through the efforts of TAPS, Women Rock, and Grayson College, a scholarship fund has been set up at the college and will be awarded to a student whose family has been affected by cancer. If you would like to be a part of this fight and make a difference, join in with our "Pink Bus" Tree of life scholarship campaign.

If you would like to have 24 -7 rolling advertising for 365 days a year AND benefit a Grayson College student all at the same time, TAPS can make that happen. With this wonderful partnership we want everyone to be a part of this campaign! TAPS will add your company information to the tree of life on the "Pink Bus" for only $500 a year. All proceeds will go into a scholarship fund which will be awarded to a student attending Grayson College and be visible 24-7 / 365 days a year.

When you're fighting cancer, every helping hand is appreciated. During what is often a years-long process of detection, treatments and recovery, there are many times when just getting from here to there is a challenge. Now, the Texoma community can call on "The Pink Bus" to schedule curb-to-curb transportation to medical appointments or other destinations.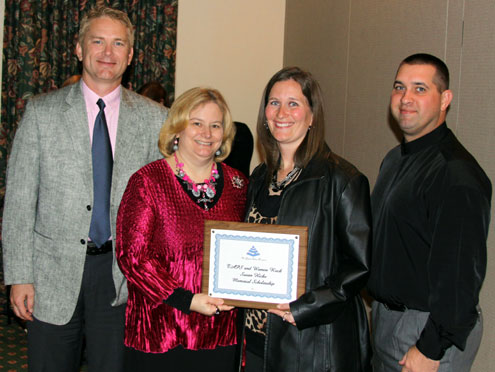 Shown accepting the TAPS Women Rock Susan Hicks Memorial Scholarship are family members (L-R) Wesley and Lisa Hicks, Kristina and Cody Nelson.
The Pink Bus, operated by TAPS Public Transit, symbolizes a commitment by the transit agency, the charitable organization Women Rock, and sponsoring companies to make it easier for men and women to get to their appointments for preventative and ongoing care related to breast cancer.
Anyone living in Texoma can schedule a ride within TAPS Public Transit's six county service area by calling (800) 256-0911.
Financially challenged riders can apply for free individual trip or monthly passes online at www.TAPSbus.com/thepinkbus.
TAPS Public Transit CEO and Executive Director, Brad Underwood, said transportation can be a difficult issue when someone is fighting cancer.
"Sometimes you just need to sit back and get to your destination without the hassle of parking and walking. The Pink Bus will pick you up at your home or office and deliver you right to the curb where you need to go," said Underwood.
TAPS Public Transit provides affordable, dependable, comfortable point-to-point transportation in Grayson, Fannin, Cooke, Montague, Clay and Wise counties, as well as daily scheduled service between Sherman and Denison, to and from DART at Plano, and to Choctaw Casino and Resort in Durant, Oklahoma. Find routes and rates at www.TAPSbus.com .
If you would like your company information on a rolling billboard Bus, call Dan Acree @ TAPS Transportation 903-868-9191 or email danacree@tapsbus.com to help fight the fight.