Entertainment
Sherman Community Players present The Three Musketeers
Feb 3, 2013
Beginning with a Thursday evening performance scheduled for 8:00 p.m. January 31, the Sherman Community Players present The Three Musketeers, written by Ken Ludwig and based on the novel by Alexandre Dumas.
Heroes, villains, and swordfights! It's all for one and one for all in this new adaptation based on the timeless swashbuckling novel, a tale of heroism, treachery, and above all honor. Set in 1625, but told with a modern "steam punk" concept, the story unfolds with D'Artagnan, the fourth musketeer, setting off for Paris in search of adventure, romance, and wisdom.
"Having been in rehearsals since the beginning of November, this all-volunteer cast of 21 has been extremely dedicated and enthusiastic about bringing this production to fruition," remarked director Anthony Nelson. "And they are becoming experts at the art of stage combat."
Dave Burford is fight director.
The box office is open from 10:00 a.m. – 2:00 p.m. Monday – Friday, 10:00 a.m. – noon on Saturday.
The box office is located in the Honey McGee Playhouse, 313 Mulberry Street in Sherman. Please call 903-892-8818 or visit www.SCPTHEATER.ORG for group rates and more details.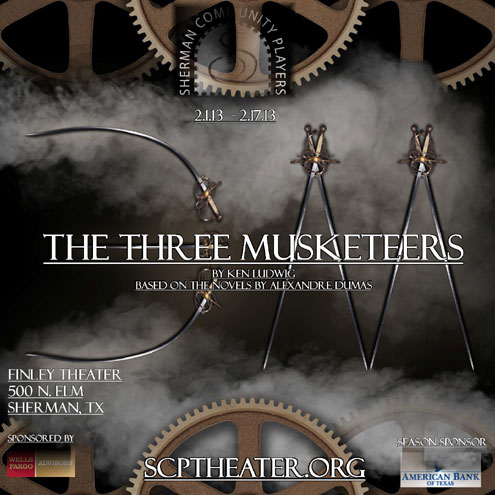 When: February 1, 2, 3 (2:00 p.m. matinee), 7, 8, 9, 10 (2:00 p.m. matinee), 14, 15. 16. 17 (2:00 p.m. matinee). Evening performances begin at 8:00 p.m. January 31 (Thursday Night Preview, $5 Tickets). Feb. 2, Super Saver Saturday Night, all established groups of 10 or more receive half off ticket price.
Where: The Historic Finley Theater, 500 N. Elm, Sherman TX 75090.
Prices: Adults ($16) Students ($8)