Sports
Children's Tumor Foundation Racing4Research joins Park Place Motorsports for Rolex 24 at Daytona
Jan 4, 2013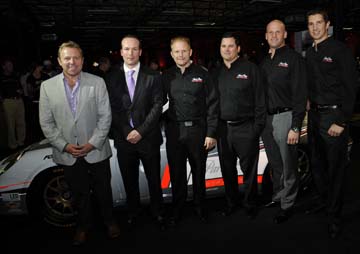 Leigh Diffey, Speed TV commentator; Patrick Huston, Park Place Porsche general manager; Jason Hart, driver, Park Place Motorsports; John Horton, partner and lead engineer, Park Place Motorsports; Alex Whitman, director, Park Place Motorsports; and Patrick Lindsey, driver, Park Place Motorsports.
Park Place Motorsports has partnered with The Children's Tumor Foundation (CTF), a non-profit 501(c)(3) medical organization, and its Racing4Research program for the 51st Rolex 24 At Daytona January 26-27, 2013.
Park Place Motorsports is an extension of Dallas-based Park Place Dealerships, which represents upscale manufacturers Porsche, McLaren, Mercedes-Benz, Jaguar, Lexus, Bentley, Maserati, Lotus, Rolls-Royce, Volvo and Smart. Park Place Motorsports augments the unparalleled service its dealerships provide by offering customers a premium level of support in relation to their motorsports activities. The team's flagship GT team is emblematic of this approach, as its Rolex 24 driver lineup is second to none.
The five-driver lineup includes Patrick Long, Spencer Pumpelly, Patrick Lindsey, Jason Hart and Daniel Graeff. The team will race the No. 73 CTF Racing4Research Porsche GT3 in the season-opening GRAND-AM Rolex Sports Car Series race at Daytona International Speedway. Long, the only American factory driver for the German manufacturer, is a three-time American Le Mans Series (ALMS) GT2 champion (2005, 2009 and 2010) and winner of the 2009 Rolex 24 in a Porsche GT3. That victory completed Long's cycle of winning each of sports car racing's modern endurance classics, as the California native claimed victories in the 12 Hours of Sebring (2005), 24 Hours of Le Mans (2004 and 2007) and Petit Le Mans (2005, 2006 and 2007).
"In our dealerships and on the racetrack, we're committed to the highest quality standards. Our driver lineup for the Rolex 24 At Daytona is a perfect example of that commitment," said Alex Whitman, director, Park Place Motorsports. "We go above and beyond our competitors and focus each and every day on the hundreds of details that add up to an unparalleled ownership experience. And for many Park Place customers, that experience involves motorsports. It's in the DNA of the cars we sell and in the DNA of our customers."
Beyond its flagship racing team that will compete in the twice-around-the-clock endurance race at Daytona, Park Place Motorsports delivers a line of full-service solutions to motorsports enthusiasts at every level, from the racing novice to the experienced professional racer, all at a level of service consistent with the exceptional customer experience Park Place dealerships have provided for more than 20 years. Offerings include:
· Service and Repair: Park Place Motorsports mechanics will service motorsports-related vehicles as needed or in conjunction with existing service intervals. The broad scope of service and repair Park Place Motorsports offers clients range from basic fluid replacement to complete repairs, including vehicle body and structure.
· Driver and Racecar Support: Park Place Motorsports manages as many processes as the client wishes, from one-off support such as racecar setup, to all-encompassing arrive-and-drive-programs.
· Parts Engineering and Distribution: Park Place Motorsports has a line of Park Place Motorsports-branded parts, specifically engineered for high-performance and racing applications.
These services will be authentically promoted by Park Place Motorsports' GT team in GRAND-AM. The same Porsche 911 GT3 Long, Pumpelly, Lindsey, Hart and Graeff will race at Daytona was built and maintained in the same Dallas facility as Park Place Motorsports' customer cars.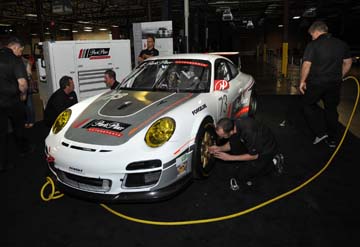 "Having an in-house race team exposes us to emerging technologies in real-time while providing real-world applications for those technologies," Whitman said. "What we learn with our race team and the experience our engineers and professional drivers can provide to our customers is unmatched. It allows a Park Place customer to get the most out of his or her car and the most out of themselves. And the best part is that all of our expertise is under one roof and available to our customers."
Since its inception in 1978, the CTF has grown into the largest non-government funder of Neurofibromatosis (NF) research in the world. The Foundation is the driving force behind research aimed at finding treatments and a cure for NF – a common, yet under recognized progressive disorder that causes tumors to grow on nerves throughout the body. NF affects one in every 3,000 children, more than cystic fibrosis, Duchenne muscular dystrophy and Huntington's disease combined, and can lead to a wide variety of complications, including blindness, bone abnormalities, cancer, deafness, disfigurement, learning disabilities and excruciating and disabling pain. Pioneering NF research funded by CTF is shedding new light on cancer, brain tumors, learning disabilities and bone abnormalities – ultimately benefiting the broader community, in addition to those with NF.
"This marks our sixth year with the expansion of the Children's Tumor Foundation's reach, marketing and fundraising efforts through Racing4Research, and to have this sort of driver lineup is amazing," said Graeff, a founding Racing4Research driver who has been with the program since its inception. "Patrick Long's name speaks for itself. He is one of the greats, but also Patrick Lindsey, founder of this team, absolutely blew my mind with how good he is, as is Jason Hart. All of us mesh together really well, and when you add in Spencer Pumpelly, it's a very solid lineup."
Last year's Rolex 24 effort raised more than $600,000. This year's Park Place Motorsports entry will carry additional branding of several key partners that will be announced in the lead up to the Rolex 24.
"Park Place Motorsports has put together a team that is really extraordinary, even compared to some of the top teams that we've run with in the past," added Graeff, who will make his fifth career start in the Rolex 24. "Excellent engineering on an excellent racecar in the Porsche GT3, and a real esprit de corps among everyone on the team. Everything is in place for this team to have a strong run in the Rolex 24."
"I have a tremendous amount of respect for the group Park Place Motorsports has assembled for the Rolex 24," Long said. "There are a ton of familiar faces on the crew and I've raced with my co-drivers wheel-to-wheel on numerous occasions. My first test with the team was last month and things couldn't have gone smoother. This will be my 10th Rolex 24 in succession. Having CTF on board with Racing4Research makes this year's event even more special. It looks like the competition in GT will be intense, but I have to consider ourselves one of the favorites, and that has me pretty pumped."
Joining Long will be Pumpelly, who owns two Rolex 24 wins (2006 and 2011), both in the GT category. They are among 19 professional victories Pumpelly has scored in GRAND-AM and ALMS competition. A degree in economics from James Madison University makes Virginia-born Pumpelly equally eclectic as Long, who is fluent in English, German, French and Italian.
"I am very excited to join Park Place Motorsports for the 2013 Rolex 24," Pumpelly said. "They are very focused and well-positioned to take their first win in the Rolex 24. Patrick Long, Patrick Lindsey, Jason Hart and Daniel Graeff all bring experience into this race and we have some great partners in Park Place and CTF. I'm looking forward to being a part of it."
Then there's Californian Lindsey, whose day job is working on Wall Street as he balances a burgeoning racing career that has taken him to GRAND-AM. In 2012, Lindsey co-drove the No. 73 Horton Autosport Porsche GT3 to six top-12 finishes in 11 outings.
"I'm very blessed to have an opportunity to partner with such talented people. From my brother-in-law and engineer, John Horton, to our all-star driver lineup and everyone in between. I know we're a young team, but the talent and the drive couldn't be stronger," Lindsey said. "Partnering with Park Place Motorsports is such a unique and exciting chance to bring newcomers into the sport, and I'm encouraged everyday by the values and teamwork displayed by our guys at the shop in Dallas. Another new partnership is one with our friends at Children's Tumor Foundation, which we are extremely proud to be a part of. I can't wait to meet all those amazing kids on race weekend. They are an inspiration and blessing to us all."
Hart was born into a Porsche racing family in Northern California. He has been racing Porsches and countless other makes since his career started in 1995. Ready to race anything anywhere, his motorsports background includes ASCS Sprint Cars, USAC Midgets, go-karts, sports cars, vintage racing cars and even off-road vehicles, as the versatile driver scored a victory in the Class 4 division of the 2011 Baja 1000.
"It's an honor and a privilege to race for Park Place Motorsports in the 51st running of the Rolex 24," Hart said. "I could not have chosen better teammates to have as co-drivers, and our crew is just as impressive. Park Place Motorsports is off to a great start, and with a strong partner in CTF and Racing4Research, I can't wait for the season to start."
Park Place Motorsports is a unique offshoot for a car dealership. But with its lineup of high-performance cars in a region where there are more than 250 Porsches licensed to race by Porsche Club of America, creating a division catering to racers who buy their personal cars and racecars from Park Place Dealerships is not only a sound business decision, but a savvy one, as well.
"Having qualified support at and away from the track is one of the primary detractors in motivating new entrants into motorsports. We fill that void by managing any and all wants of the customer," Whitman said. "We have a centralized location, a dynamic product line, an unmatched client experience and an unrelenting effort to become a leader in the racing industry. It's what makes Park Place Motorsports stand out."
Developed by the Children's Tumor Foundation, the Racing4Research program utilizes competitive, professional auto racing as a vehicle to increase awareness of Neurofibromatosis and raise funds for research through corporate sponsorship, personal donations, and individual fundraising by NF Heroes: children and adults from around the country who live with neurofibromatosis. NF affects one in every 3,000 children, more than cystic fibrosis, Duchenne muscular dystrophy and Huntington's disease combined, and can lead to a wide variety of complications, including blindness, bone abnormalities, cancer, deafness, disfigurement, learning disabilities and excruciating and disabling pain. The Racing4Research program offers children and families living with the disorder a uniquely empowering weekend, and has raised over $2 million dollars since its inception in 2008. Donations can be made at www.Racing4Research.org.
Park Place Motorsports is an extension of Dallas-based Park Place Dealerships, which represents upscale manufacturers Porsche, McLaren, Mercedes-Benz, Jaguar, Lexus, Bentley, Maserati, Lotus, Rolls-Royce, Volvo and Smart. Park Place Motorsports augments the unparalleled attention its dealerships provide by offering customers a premium level of support in relation to their motorsports activities. Services include maintenance and repair, driver and racecar support, and parts engineering and distribution. These offerings are authentically promoted by Park Place Motorsports' flagship GT team in the GRAND-AM Rolex Sports Car Series. More info at
http://www.parkplacemotorsports.com/