Local News
Made in USA MV1 Mobility Vehicles to join TAPS fleet
Jan 7, 2013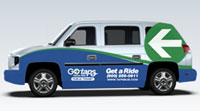 At a production plant in Indiana, workers are putting the finishing touches on a fleet of fifteen SUV-sized vehicles that will eventually hit the road on the TAPS Public Transit system in North Texas. The MV1, manufactured by Vehicle Production Group (VPG) Auto Group, Detroit MI, and marketed by National Bus Sales in Fort Worth, TX, is a purpose-built passenger vehicle designed for transport of elderly and disabled riders. The new mobility vehicles are due to arrive in early 2013.

Purchase of the MV1 units from VPG was made possible through a Federal grant. "Department of Transportation provides funding under a 'state of good repair' provision to ensures public transportation fleets are able to meet the needs of their region," said Brad Underwood, CEO and Executive Director of TAPS Public Transit.

The MV1 is a popular vehicle in the world of public transportation. First introduced at the New York International Auto Show in spring of 2012, the MV1 is unique in its design as a 100-percent factory-built mobility vehicle that is 100-percent wheelchair accessible, Relatively small in stature, economical to operate, and made entirely in the USA, the MV1 is designed from the ground up for ADA transportation, rather than an existing design that is retrofitted by a third party.

TAPS Public Transit coordinates more than 130,000 trips each year, many of which are for elderly and disabled riders. The MV1 from VPG features a low-step-in or roll-aboard (via the easy to deploy ramp) flat floor, and an interior that is 59-inches high. The MV1 is also the only manufactured transport vehicle that allows a wheelchair rider to ride shotgun next to the driver offering an entirely new view for most disabled passengers.