School News
Nursing Program to open January 2013 at A&M-Commerce
Jan 6, 2013
COMMERCE, TX—Texas A&M University-Commerce christened the Nursing Program with an open house on November 19 in the new Nursing Building on West Neal Street. President Dan Jones and Director of the Nursing Program Dr. Barbara Tucker spoke at the event.
A&M-Commerce will be offering a Bachelor of Science in Nursing Program Nursing January 2013. The program is designed to enable students to integrate knowledge from theory, research, high level skills and concepts of leadership into the practice of professional nursing care.
"Starting a nursing program isn't easy," said President Dan Jones. "The more effort and time we put into making sure that our nurses are fully qualified and highly prepared, the better."
The curriculum for the BSN focuses on nursing skills and theory. Students will be taught online, in the classroom, in laboratories and in clinical practice.
"There is a great need in rural East Texas for a nursing program," said Jones. "This program keeps with the mission of the university to provide highly trained individuals to respond to all the needs of the area."
This unique BSN program uses high-tech, life-like mannequins that simulate different illnesses. This enables the students to learn through hands-on experience and practicing skills taught in the classroom.
"This program will be such a benefit to Northeast Texas Region," said Dr. Barbara Tucker, director of the nursing program. "The nursing vacancy rate in Texas is 6.7 percent, and in East Texas it is 9.1 percent, which is the highest in the state. Only 30 percent of nurses are educated at the baccalaureate level. We hope to change this and make a big impact in this area."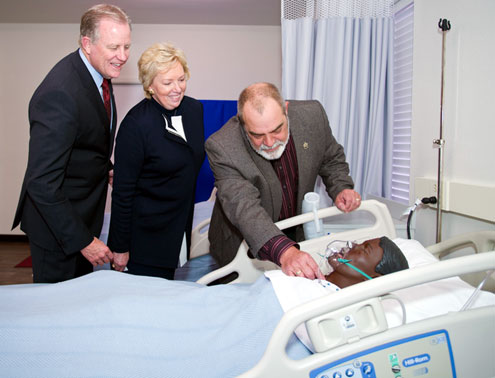 (L-R) Robert "Bob" L. Walker, President and Chief Executive Officer of Texas Scottish Rite Hospital; Debbie Sayles, Vice President and Chief Nursing Officer of Texas Scottish Rite Hospital; and Dr. Grady Price Blount, Dean of the College of Science, Engineering & Agriculture. photo courtesy of A&M-Commerce Marketing Communications
The new nursing facility used to be the Fellowship Hall of the Episcopal Church on campus. It was renovated to provide classrooms for the nursing program.