Local News
Support grows to repair statue of Alamo hero
Feb 12, 2013
Bonham -- Bonhi exes appear to be rallying behind another local cause and this time their goal is to repair the statue of the City of Bonham's namesake and Alamo hero James Butler Bonham.
Originally commissioned to commemorate the Texas Centennial in 1936, the statue of Bonham was lowered into place December 18, 1938 -- exactly 74 years ago on Tuesday -- and the exterior of the statue is in need of repair. Fannin County Historical Commission is spearheading fundraising for this project, with the tax-exempt donations being collected by Fannin County Treasurer Mike Towery.
Once word went out this fall that the most recognizable statue in Fannin County statue was in bad shape, graduates of Bonham High School began racing to the rescue.
Tom Thornton, chairman of the Fannin County Historical Commission, hopes to have the statue repaired by its 75th birthday.
In only a matter of weeks, the donations that have poured in far exceed the original cost of the statue, which was $7,000 in 1938.
So far, approximately $9,600 has been donated; repairs are estimated to cost $20,000. The Bonham High School classes of the '40s, '50s and '60s have been quick to support this project.
As documented by the research of Light Cummins, Bryan Professor of History at Austin College and former State Historian of Texas, Allie Tennant enjoyed an international reputation as a preeminent American sculptor during the period she was creating statues that have graced Bonham, Corsicana and Hall of State located at Fair Park in Dallas for three-quarters of a century.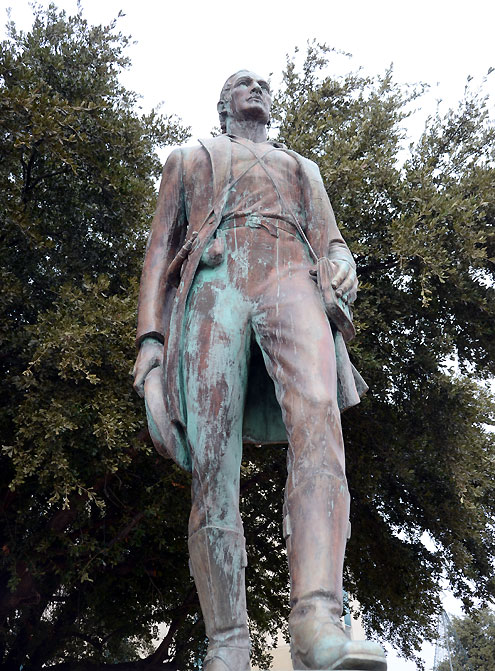 Mr. Thornton points out that there are two separate costs involved with such an impressive piece of public art: the funds necessary to create this larger-than-life tribute to a legendary Alamo hero, and then the equally important repair costs in order to preserve the historical artwork.
"It was a tribute to the Alamo," Thornton says of the image of James Butler Bonham, "and also a tribute to Fannin County because we were chosen to receive the statue."
Please send tax-deductible donations to:
Fannin County Statue Restoration
Fannin County Treasurer Mike Towery
101 E. Sam Rayburn Drive, Suite 302
Bonham TX 75418