Entertainment
29th National Cowboy Poetry gathering to feature Italian cowboys
Feb 19, 2013
Elko, Nevada—The National Cowboy Poetry Gathering—the nation's greatest celebration of the American West, its people, culture and traditions—has its own long legacy of hosting ranch people and cowboys from around the globe. Past participants have hailed from Mongolia, Argentina, Brazil, Colombia, France, Hungary, Australia and the British Isles. The 29th National Cowboy Poetry Gathering, will welcome butteri, cowboys from Italy, who have their own unique poetry, music, gear and traditional techniques, but still have much in common with their counterparts in the American West and cattle cultures across the globe. The event is produced by the Western Folklife Center and takes place January 28 to February 2, 2013, in Elko, Nevada.

The Italian cultural exchange is part of the Western Folklife Center's ongoing effort to build understanding among herding cultures worldwide, explains Executive Director Charlie Seemann. "We believe it is important to introduce American ranchers and cowboys to others who share their occupation but may have different ways of accomplishing their work. Over the years, our cultural exchanges have created awareness and appreciation for how other cultures operate, and we've learned from each other. It's been very rewarding for everyone involved."

The butteri are from the Maremma region of Tuscany where they have been raising and herding the large lyre-horned Maremmana cattle for centuries. Butteri ride the Maremmano horse and tend the cattle using a long stick or l'uncino. There are two types of saddles used in the buttero tradition, the scafardo, a military-type saddle built on a wooden tree, and the more simple bardella style. The buttero typically wears coarse cotton pants, leggings, a velvet jacket and a black hat. He protects himself from the rain with a large mantle called the pastràno.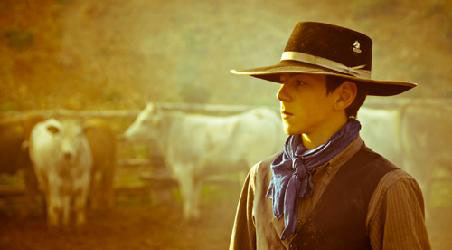 The National Cowboy Poetry Gathering will welcome seven Italian guests to share the traditions and the art of the buttero. They will participate in performances of music and poetry, as well as presentations of butteri culture and environmental preservation in the Maremma, and cooking workshops and demonstrations. The participants are: Drew Mischianti, buttero, writer, journalist, co-curator of the buttero program at the Gathering; Giulio De Donatis, buttero; Gianluca Zammarelli, zampogna (Italian bagpipe) maker and player, and director of the Etnomalia School of Music; Marco Ruffo, accordion and tambourine player; Francesca Prato, buttera; Natalia Estrada, buttera, photographer, filmmaker, co-curator of the buttero program at the Gathering; Valerio De Donatis, buttero, Maremma chef; and Rodolfo Lorenzini, buttero, historian, Chairman of the Italian Society for Horse and Environment.

The Western Folklife Center will also mount an exhibition of buttero gear, tools and clothing, as well as contemporary and historic photographs, artwork and video depicting life herding cattle in the Maremma. Italian Buckaroos: Old World & New World will also feature the rich legacy of Italian-American ranching in the American West. The exhibition will open at the Wiegand Gallery of the Western Folklife Center during the 29th National Cowboy Poetry Gathering and will travel to arte italia, Nevada's premier Italian cultural arts center in Reno, Nevada, in September 2013.

The Italian cultural exchange and the portion of the exhibition dedicated to the Italian butteri is exclusively sponsored by the E. L. Wiegand Foundation. The portion of the exhibition dedicated to Italian-American ranching traditions is supported by Reds Ranch and others.
The 29th Gathering will present more than 50 poets, musicians and musical groups from the U.S., Canada and Italy, performing on seven stages at four different venues. The line-up includes cowboy poets Baxter Black, Wally McRae, Paul Zarzyski, Waddie Mitchell, Yvonne Hollenbeck, Joel Nelson, Elizabeth Ebert and many others. Music is as integral to the Gathering as poetry; the musical line-up includes Don Edwards, Tom Russell, The Quebe Sisters Band, Ramblin' Jack Elliott, Brenn Hill, Wylie & The Wild West, Dave Stamey, Corb Lund & The Hurtin' Albertans, Los Texmaniacs, Cowboy Celtic, The Saddle Cats and more. Scroll down for a full list of participating artists and their hometowns. Visit www.westernfolklife.org for full bios.

The event also features hands-on workshops in traditional western arts such as rawhide braiding and cinch-making as well as songwriting, Italian cooking and rhythm guitar. Three western dances, film screenings, and open-mic poetry and music sessions are also on tap. Tickets to the 29th National Cowboy Poetry Gathering can be purchased at www.westernfolklife.org, by calling 775-738-7508, toll-free 888-880-5885, or by stopping in to the Western Folklife Center's ticket office, 501 Railroad Street, Elko. Press passes are available to members of the media. Applications are available online.

The 29th National Cowboy Poetry Gathering is supported by the E. L. Wiegand Foundation, NV Energy, Sage Foundation/E.W. Littlefield, Jr., Newmont Mining Corporation, Reds Ranch and many more foundations, businesses and individuals.
29th National Cowboy Poetry Gathering performers
Adrian, Williams, CA
Baxter Black, Benson, AZ
Dave Bourne, Agoura Hills, CA
Cowboy Celtic, Turner Valley, AB, Canada
John Dofflemyer, Lemon Cove, CA
Carolyn Dufurrena, Winnemucca, NV
Elizabeth Ebert, Lemmon, SD
Don Edwards, Hico, TX
Ramblin' Jack Elliott ,Northern California
Dick Gibford, New Cuyama, CA
DW Groethe, Bainville, MT
Kristyn Harris, McKinney, TX
Andy Hedges, Lubbock, TX
Jessica Hedges, Burns, OR
Brenn Hill, Clinton, UT
Yvonne Hollenbeck, Clearfield, SD
Jess Howard, Wibaux, MT
Linda Hussa, Cedarville, CA
Chris Isaacs, Eagar, AZ
Kay Kelley Nowell, Alpine, TX
Ross Knox, Catheys Valley, CA
Bill Lowman, Sentinel Butte, ND
Corb Lund & the Hurtin' Albertans, Edmonton, AB, Canada
Mary McCaslin, Santa Cruz, CA
Gary McMahan with Ernie Martinez, Bellvue, CO
Wally McRae, Forsyth, MT
Waddie Mitchell, Twin Bridges, NV
Andy Nelson, Pinedale, WY
Joel Nelson, Alpine, TX
Rodney Nelson, Almont, ND
Glenn Ohrlin, Mountain View, AR
Ed Peekeekoot, Crofton, BC, Canada
The Quebe Sisters Band, Burleson, TX
Vess Quinlan, San Acacio, CO
Henry Real Bird, Garryowen, MT
Pat Richardson, Merced, CA
Randy Rieman, Dillon, MT
Tom Russell, Wimberley, TX
The Saddle Cats, Oakland, CA
Georgie Sicking, Kaycee, WY
Al Simmons, Anola, MB, Canada
Jesse Smith, Cora, WY
R.P. Smith, Broken Bow, NE
Sourdough Slim & Robert Armstrong, Paradise, CA
Dave Stamey, Orange Grove, CA
Gail Steiger, Prescott, AZ
Los Texmaniacs, San Antonio, TX
Keith Ward, Vilas, NC
Wylie & The Wild West, Conrad, MT
Paul Zarzyski, Great Falls, MT

The Western Folklife Center is dedicated to exploring, presenting and preserving the diverse and dynamic cultural heritage of the American West. We celebrate the wisdom, artistry and ingenuity of western folkways through exhibitions, educational programs, national radio and television programs, research and preservation projects, our website, and our premier event, the National Cowboy Poetry Gathering. We nurture connections among rural and ranching cultures globally, exploring universal themes in working traditions and artistic expression, which we believe are vital links to the past, present and future of the American West.